Steven Spielberg: "I'll Probably Do Indiana Jones 5 With Harrison Ford"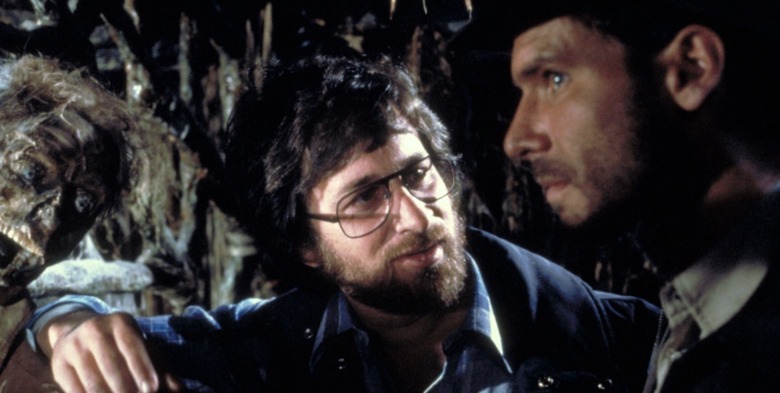 While promoting his new film Bridge of Spies, Steven Spielberg casually mentioned that he will "probably do" an Indiana Jones 5 with Harrison Ford. Although this one-sentence quote isn't earth-shattering, it does seem to suggest that Spielberg will probably return to direct a fifth Indiana Jones film, and that it won't be a total reboot, as has been rumored previously.
Yahoo! Movies (via ScreenCrush) interviewed Spielberg and Tom Hanks about their new film Bridge of Spies. During the interview, Spielberg joked about his tendency to work with the same leading men over time. This film is his fourth time working with Hanks, matching his four times working with Ford on the Indiana Jones films. He added the following:
Now, I'll probably do an Indy 5 with Harrison, so then it'll be five for Harrison, four for Tom.
Anytime Steven Spielberg mentions an Indiana Jones sequel, it's instantly news. The strong probablility that an Indiana Jones 5 will happen isn't a shock to anyone. The series is a huge moneymaker, and Disney's Lucasfilm deal included the precious action-adventure property. The news in this particular quote is Spielberg's admission that he will probably direct the fifth film in the series, and the confirmation that Harrison Ford would still be involved.
Ever since Disney purchased Lucasfilm, the rumor mill has been working overtime. We've heard many rumors that the Indiana Jones series would be rebooted as early as 2018, with actors as varied as Bradley Cooper and Chris Pine being rumored to take on the iconic role originated by Ford, and even claims that Frank Darabont pitched a take for the new adventure.
All of the reports have been debunked, either by producer Frank Marshall or other reputable sources. Chris Pratt has openly stated that he hasn't talked to Spielberg about any Indiana Jones projects. Ford has publicly stated that it is "perfectly appropriate" to bring the character back, and there have even been rumors that part of his reason for returning to Star Wars was an assurance that they would make another Indy film.
I've always said that if they do another Indiana Jones film it should be both a sequel and a reboot. That could be accomplished in a variety of ways, such as by using Ford as an old Indiana Jones to bookend a story that introduces a new actor in the iconic role, or the less interesting idea of introducing a new character mentored by Dr. Jones.