'12 Years A Slave' Writer John Ridley To Direct L.A. Riots Drama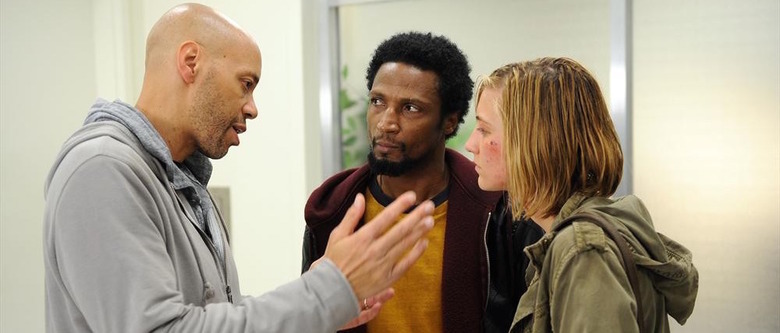 John Ridley is turning his attention to another unhappy chapter in American history. The Oscar-winning 12 Years a Slave screenwriter will write and direct an untitled movie about the 1992 L.A. riots, which followed the near-fatal beating of Rodney King by local police.
Get details on the John Ridley LA riots project after the jump. 
Ridley's L.A. riots script has been set up for years at Brian Grazer and Ron Howard's Imagine Entertainment. But it's just gotten a fresh jolt thanks to Broad Green Pictures, which has come aboard to produce and distribute. The two companies jointly announced Ridley's new project today.
The film will follow the events of April 1992. In March, four L.A.P.D. officers chased down and then beat up King. A bystander caught the incident on tape, and the footage sparked outrage as it spread across the country. The four officers involved were charged with assault and use of excessive force, but were acquitted by a jury in late April.
The riots began the day of the verdict, and peaked over the next few days. Ultimately, more than 50 people were killed and another 2,300 were injured. In addition, the incident racked up over $1 billion in property damage. Although conversations about race in America tend to focus on blacks and whites, the L.A. riots also significantly impacted local Asian and Hispanic communities.
With the recent successes of dramas like 12 Years a Slave, Selma, and Straight Outta Compton, all of which tackled America's history with race in thoughtful ways, the time seems ripe for a story about the riots. And Ridley seems well equipped to tell it. He has experience navigating thorny racial issues, in films like the aforementioned 12 Years a Slave and shows like his award-winning drama American Crime.
Ridley's other recent credits include Timur Bekmambetov's upcoming Ben-Hur remake, which he scripted, and a mysterious TV project in the works from Marvel. The L.A. riots movie will be just his third time directing a feature, after the 1997 crime pic Cold Around the Heart and the musical biopic Jimi: All Is By My Side.
Said Broad Green's Gabriel and Daniel Hammond in a statement:
This is a seminal event in our country's history, the reverberations of which are still far too relevant today. We were blown away by John's amazing screenplay and we know that under his direction and the aegis of Imagine the film will be truly incredible. This is why we started this company. To make movies like this.
Added Grazer:
We have barely seen the tip of the iceberg in terms of John Ridley's talent. I am confident that he will capture the magnitude of the events that unfolded and the issues that led up to them. He will show the world why the riots cannot and should not be forgotten.
Shooting on Ridley's L.A. riots movie will begin this spring. No casting or release date has been announced.