Cary Fukunaga's 'Beasts Of No Nation' Gets One Last Heartbreaking Trailer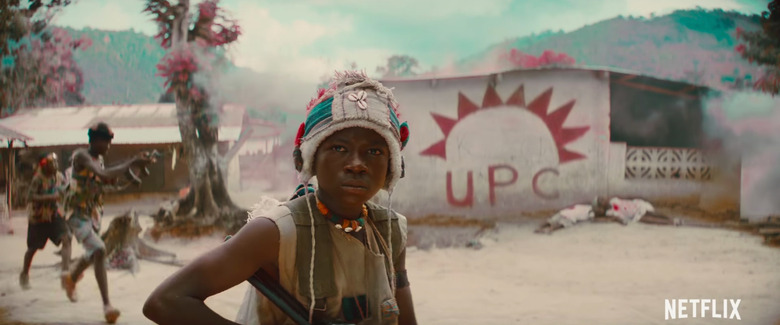 Netflix is getting one one last trailer for Beasts of No Nation, just days before the film's online and theatrical debut. Idris Elba and Abraham Attah lead Cary Fukunaga's harrowing drama about a child soldier in west Africa, based on the novel by Uzodinma Iweala. Watch the Beasts of No Nation final trailer after the jump.
The Beasts of No Nation final trailer popped up on YouTube. While it's not graphic, per se, there are some pretty upsetting images in it.
The story unfolds in an unnamed African country torn apart by civil war. Young Agu (Attah) is torn from his loving family and forced to join a guerrilla fighter unit, where a charismatic warlord known as the Commandant (Elba) takes him under his wing. Although Elba is the big name movie star, the story really seems to rest on Attah's capable young shoulders. This trailer may be the most heartbreaking yet, thanks to Agu's narration.
While Netflix has debuted movies before, Beasts of No Nation looks to be its most high-profile feature yet. It got a splashy debut at the Venice Film Festival earlier this fall, followed by rave reviews for Fukunaga and his stars. Plus its release has carefully structured to keep it within the bounds of Oscar qualification, should Academy voters feel like rewarding their hard work.
Beasts of No Nation is sort of film that might normally take weeks or months to roll out across the country, so it's great that Netflix's distribution model allows everyone to enjoy it at once. On the other hand, this isn't exactly Netflix and chill (or "Netflix and chill") material. If you have the chance to see it in theaters, you may want to do so, even if it means you'll actually have to get up off your couch and shell out a few extra bucks.Beasts of No Nation arrives in theaters and on Netflix October 16.