Matthew Vaughn May Direct Sci-Fi Disaster Pic 'Ascension'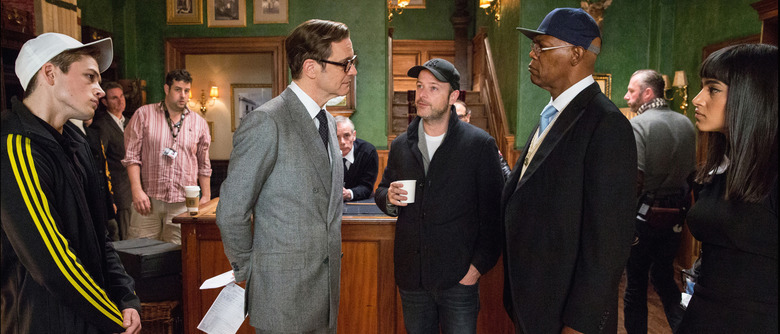 20th Century Fox is staying in the Matthew Vaughn business. The studio is already working with him on a sequel to his R-rated hit Kingsman: The Secret Service, and now it's just acquired the sci-fi spec script Ascension as a possible vehicle for Vaughn. Get more details on the Matthew Vaughn Ascension project after the jump. 
Deadline reports 20th Century Fox has picked up Ascension in a mid-six- to seven-figure deal. Written by Shannon Triplett, the sci-fi disaster movie centers on a scientist who must save Earth after gravity disappears. The studio envisions Ascension as a big action tentpole-type project.
Vaughn's deal isn't locked in just yet, but the plan is for him to produce and possibly direct. The British filmmaker has demonstrated a knack for stylish, eye-catching action sequences, and the premise of Ascension should offer him plenty of opportunity to show off his chops.
Vaughn's Kingsman: The Secret Service exceeded expectations when it opened this year, grossing $412 million and kickstarting a new franchise in the process. The filmmaker is currently at work writing the sequel. Depending on how things go with the script, and depending on how things work out with star Taron Egerton's suddenly jam-packed schedule, shooting is expected to begin next spring.
Before Kingsman, Vaughn teamed with Fox for X-Men: First Class, which successfully rebooted the long-running Marvel superhero franchise with younger A-listers like Jennifer Lawrence, James McAvoy, and Michael Fassbender. His other credits include Kick-Ass, Stardust, and Layer Cake. In addition, Vaughn recently added MGM's spy thriller I Am Pilgrim to his to-do list.
Triplett was an associate producer on Godzilla, and previously served as a VFX coordinator on films like Harry Potter and the Deathly Hallows, Fast Five, and Battleship.
No start date or release date has been announced for Ascension. However, based on the studio's eagerness to get rolling on Kingsman 2, we're guessing it's gonna be a little while before Vaughn can turn his attention to Ascension.