The Best And Worst Sketches From Amy Schumer's 'Saturday Night Live'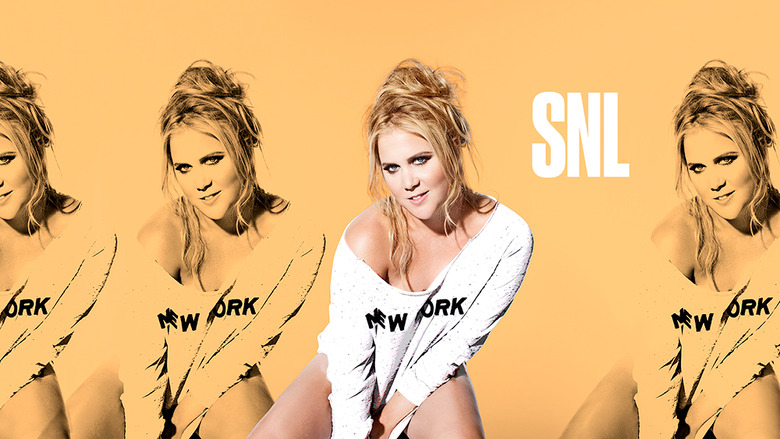 Following the 41st season premiere of Saturday Night Live, the season continued this past weekend with a first-time host, comedian and Trainwreck star Amy Schumer. For those disappointed by the debut episode hosted by Miley Cyrus, you'll be happy to know that this episode is certainly a step up, if only because Schumer is used to this kind of comedy environment. Though there are certainly better overall sketches this episode, there are still a couple rough areas to be seen.
Check out our full review of the Amy Schumer Saturday Night Live episode below!
For each review, I'll break down the sketches by The Best, The Average and The Worst of the night, with a separate section for Weekend Update. I'll also evaluate how well the host performed and name an MVP of the night before wrapping it up. So let's run through last night's sketches.
The Best
Porn Teacher – For everyone who has ever seen a porn scenario like this, you know all too well that it's eerie how accurate this depiction is. From Kyle Mooney's horrible porn star acting to Amy Schumer's overly erotic teacher. But it's the earnest innocence of Aidy Bryant's interrupting student that made this sketch hilarious, right along with Vanessa Bayer's equally clueless mother. Kudos to whoever came up with the line about the school being just an office building. Brilliant.
Guns – Saturday Night Live has laid pretty low key when it comes to the hot button topic of gun safety and rights, but they didn't pull any punches with no less than three jabs at those who oppose gun reform, and this was one of the most creative. Whether you're a supporter of the second amendment or not, you have to admit that it's a bit creepy how much some people love their guns, like they're some kind of wonderful gift to treasure forever.
Fox & Friends: Speaker of the House – Bobby Moynihan always makes this sketch a delight because of hoe dimwitted he plays Brian Kilmeade, and this one is no exception. He's got some great one-liners showing his exaggerated stupidity, not entirely unlike Moynihan's Anthony Crispino. By the way, if you're not pausing and slowly going through the entire list of corrections, you're missing out on some hilarious quick jokes.
The Average
Ford's Theatre – While I laughed throughout this sketch, I found myself wishing there was more variance in how Schumer's actress character changed her ad-libbing. For example, using the "getting plowed" line twice seemed like a cop out, though that could have been a cue card issue. But Schumer's dedication to throwing herself into every outburst made this quite enjoyable, right along with Kenan Thompson's reliable, perfect reactions.
City Council Meeting – This is almost a little too similar to a real city council meeting to be funny, but this misfit collection of characters was pretty amusing. However, at times I felt like they were Weekend Update segment rejects (and I don't want that to sound as mean as it does) that were all collected into a simple premise. I could see this sketch repeating in order for certain cast members to try out characters like this, and I wouldn't mind, but only if it improve a bit.
Hands-Free Selfie Stick – A selfie stick that goes in your butt. Just hearing that sounds like a YouTube video, not a good SNL commercial, And considering this commercial doesn't really go anywhere beyond the idea of putting a selfie stick in your butt that takes pictures when you flex your cheeks, it probably should have been cut.
The Worst
Delta Flight – Physical comedy is tough to crack on SNL most of the time, if only because doing live stunts and making them safe for the cast members is a little difficult. In this case, the physical portion of the comedy wasn't nearly as funny as the overly friendly and energetic flight attendants' schtick, and since the focus was on the former instead of the latter, it didn't land very well. However, I did like the reference to "Useless Mark," since it implied a rich history of Mark screwing things up all the time. I wouldn't mind seeing Mark ruining more things, especially if Taran Killam screams like that again.
Baby Shower – Well, the 10-to-1 slot (so called because it's around 10 minutes to 1am on the East coast) is always full of a strange sketch, and this was no exception. Despite Schumer and Cecily Strong's dedication to their characters, the pacing was weird, and the premise didn't sustain itself to fill a whole sketch.
Weekend Update
This is one of those times that Michael Che and Colin Jost really showed up to Weekend Update, and a lot of that was helped out by their lively gun "debate." Though Jost wasn't exactly on the opposite side of Che, him playing the clueless, entitled white guy to Che's more street smart, sarcastic side works fantastically. This dynamic just needs to come out far more often in order to make Weekend Update run smooth instead of being so touch and go all the time.
Solomon – Well, not ever new character is going to be a winner. Jay Pharoah does a fine job of bringing this character, most assuredly inspired by someone Pharoah knows or observed, to life, but his gimmick doesn't really work in this context. I wouldn't count on him recurring anytime soon.
Mrs. Santini On Overcrowded Apartments – Kate McKinnon is easily the most reliable cast member to deliver a Weekend Update segment, and this was no exception. I love when McKinnon does characters with accents and makes them simultaneously sweet and angry. One of the hardest laughs I had during this episode was "I'm sorry your baby is a car alarm."
The Host
Since Amy Schumer has her own sketch comedy show on Comedy Central, you expect her to be good on Saturday Night Live. Of course, live performances are a different animal than recorded sketch comedy, so it was nice to see that Schumer was not thrown off by the fast-paced, unique nature of SNL. She kept up with the cast, delivered a great stand-up monologue (above), and was clearly having a blast the whole way through. Schumer can come back anytime to host, and I will be happy to see her.
PS – It was fantastic to see how Amy Schumer's stand-up set for her monologue was restructured and improved since seeing her do some of this new material during the Oddball Comedy Tour this past summer. There's a lot more of good stuff that goes between the "wonderful time for women in Hollywood" bookends.
The MVP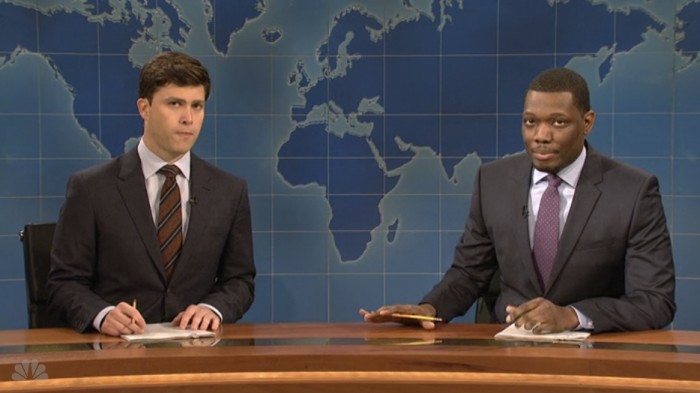 Colin Jost and Michael Che – I was this close to giving The MVP to Schumer this week, but since you essentially expect her to come through because of her comedic backgrond, I went with the most satisfying part of this particular episode. This edition of Weekend Update was one of the best overall that I can recall, and it's because Michael Che and Colin Jost weren't sticks in the mud, and had this great, smooth interaction with each other, something that needs to happen more often. This was a vast improvement over last week, and this just shows that Che and Jost need to have the relationship on camera that they do behind the scenes, because they're great friends and both hilarious! Bring that to the desk, guys!
The Final Word
This episode shows just how Saturday Night Live sometimes just needs a moment to get into their groove. The second episode was definitely superior to the season premiere, helped greatly by the presence of a young, smart comedic mind like Schumer. While there were a couple sketches that mostly fell flat, there were a couple that felt like they could've been on Inside Amy Schumer, and that's a pretty big compliment, especially since they just won an Emmy.
***
We'll be back next week after Tracy Morgan hosts the October 17th episode.