Ubisoft Says The 'Assassin's Creed' Movie Will Be Like 'Batman Begins' And 'Blade Runner'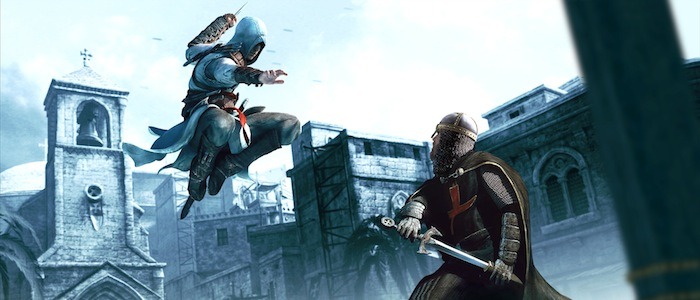 The Assassin's Creed movie has only just started filming and it's already in the running for the best video game movie of all time. Mainly because there hasn't been a single genuinely good video game movie adaptation yet. When the high point of your genre is Paul W.S. Anderson's Mortal Kombat, you have a problem. So by hiring an actor as interesting as Michael Fassbender and a director as promising as Justin Kurzel, Ubisoft has already given itself a huge leg up in this race. Even if the movie's a stinker, it will undoubtedly be one of the best video game movies ever by default.
Now, Jean-Julien Baronnet, the CEO of Ubisoft Motion Pictures, is comparing the film adaptation of their long-running franchise to Batman Begins and Blade Runner. Those are some big words right there.
Read the new Assassin's Creed movie details after the jump.
The French magazine Premiere sat down with Baronnet for a long-ranging interview, where he discussed the company's creative process and how they're going about adapting their various game franchises. The short answer: carefully. There's a reason it's literally taking years for Assassin's Creed to come together.
While it may seem strange for an actor of Fassbender's caliber to take on a video game movie, the choice actually makes a lot of sense when you see the creative deal he's been given. This section of the interview (awkwardly translated from its original French) is also when Baronnet drops those Batman Begins and Blade Runner comparisons:
[Michael Fassbender] accepted very quickly. And it was the only actor which we thought was obvious. So we started with the actor, which is incongruous. Even more incongruous, he engaged us with nothing. There was no script, no studio or anything. We told him we were going to build the project together, we have a huge brand and we want to make a make a film with references to feature films like Batman Begins and Blade Runner. That is why we tend to. He was promised that he could work with the writers, we would associate it with all key creative choices.
If we're understanding this correctly, this means that Fassbender wasn't lured in by the project itself. He was lured in by the promise that he could help build the project, constructing a franchise around his particular skills and tastes. That's why a relative newcomer like Kurzel got such a big gig – he recently directed Fassbender in a well-received film version of Macbeth and the actor is calling many of the shots here.
That's certainly one way to attract upper-tier talent to a film that could be easily written off by A-listers. For better or worse, the Assassin's Creed movie won't be a straightforward adaptation of the game. It'll be the game restructured around a guy who can lend prestige to the whole thing. Could this be the approach that breaks the dreaded video game movie curse? Could Assassin's Creed make history by simply not being terrible?
Baronnet says that a similar deal is in place with Tom Hardy, who is attached to star in the long-gestating adaptation of the Splinter Cell games:
This is obviously attractive for intelligent players like Michael Fassbender and Tom Hardy. It is like a huge studio because it has huge brand, but it is a small structure. And it will remain like that, you do not want to become bigger. Tom Hardy was also evident on Splinter Cell. We had the same discussion and it is also committed immediately. Tom is a gamer and he loves the world of Splinter Cell. We worked a lot with him on the character.
Video game movies so often feel like lazy, half-assed affairs put together by a committee unfamiliar with the source material (Hitman: Agent 47, anyone?). Ubisoft has taken one step in the right direction by deciding to fund and develop their movie adaptations in-house and another by actually convincing powerhouse actors to get on board. Those Batman Begins and Blade Runner references, while fairly common points of comparison for film studios, suggest, at the very least, some level of ambition.
Here's Baronnet on how Ubisoft Motion Pictures operates, once again in shattered, internet-translated English:
Our approach is to remain in control of the development, so to finance it 100%. We choose writers who are not necessarily stars but people who have understood the universe. And as long as the script is not level, it will not launch. It has also worked very closely with New Regency for Assassin's Creed. We needed them for their expertise. There was a kind of triptych between the actor, the studio and us. It is the combination of the three who built this scenario. With arbitration returning us as we fund. The beauty of being a small structure is that no contingencies that lead us to release films in greenlighter quickly. It leaves time to time to arrive at what it takes. Four years of development for Assassin!
And while it has taken four years to get Assassin's Creed this far, things to appear to be picking up speed. Fassbender's Macbeth co-star Marion Cotillard joined the cast, followed by Brendan Gleeson and Jeremy Irons just one week ago. Something about Assassin's Creed is attracting actors of this caliber. Whether it's the promise of a paycheck or because this movie could actually be good remans unseen.
In any case, we hope Fassbender has spent the past four years practicing how to leap off tall buildings and always land in haystacks. After all, the best actors prepare.