Meryl Streep Thinks Rotten Tomatoes Needs More Female Critics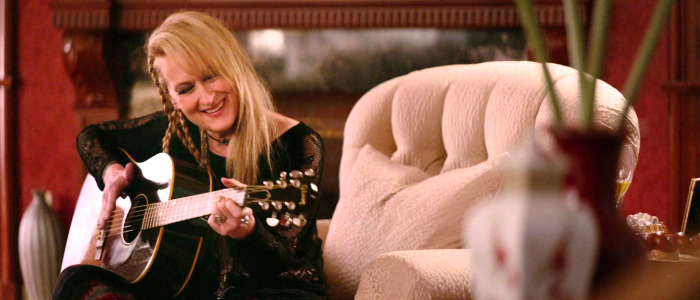 Meryl Streep (Adaptation) isn't a feminist. In her own words, she's a humanist, a comment which drew some flack, as did a recent photo shoot she did to promote her newest picture, Suffragette. In the photo, Streep wore a shirt with the slogan, "I'd rather be a rebel than slave," an arguably tone deaf and outdated line from Emmeline Pankhurst, the women's right activist portrayed by Streep in the film.
These recent missteps shouldn't detract from everything right the actress has to say, though. Such as her comment about Rotten Tomatoes needing more female critics. Read more after the jump.
Both the film industry and world of film criticism are boys' clubs. If you've ever attended an advance screening, you'll quickly notice the seats reserved for critics are occupied mostly by white men. At a recent press conference at The London Film Festival, Streep called this "infuriating."
I went deep, deep, deep, deep into Rotten Tomatoes. I counted how many contributors to Rotten Tomatoes. There's a very strict criteria that allows you to be a blogger or critic. Of those people who are allowed to rate on the tomato meter, there are 168 women. And I thought that's absolutely fantastic, and if there were 168 men it would be balanced. If there were 268 men it would be unfair but I would be used to it, if there were 368, 468, or 568... actually there are 760 men who weigh in on the Tomatometer.
There's not a strict criteria for what it takes to become a critic or blogger. In the age of the internet, almost anyone can do it. There is, however, a strict criteria for joining Rotten Tomatoes' critic community. I know people who meet their requirements who haven't been able to join the site. Streep believes the site should make room for more female critics.
I submit to you that men and women are not the same, they like different things. Sometimes they like the same thing but sometimes their tastes diverge. If the Tomatometer is slighted so completely to one set of tastes, that drives box office in the United States, absolutely. Who are these critics and bloggers? I went on the site of the New York Film Critics, which has 37 men and two women. Then I started to go on all the sites with the critics. The world isn't "disheartening," it's "infuriating." People accept this as received wisdom, as just the way it is... it isn't fair. We need inclusion. This year Rotten Tomatoes should say this should equal — that it should be half and half.
Some of the finest critics and bloggers on the internet are women — like LA Weekly's Amy Nicholson, Indiewire's Kate Erbland, Thompson on Hollywood's Anne Thompson, The Associated Press' Lindsey Bahr, and TheWrap's Jen Yamato. There are plenty of strong female voices in the film community, just not as many as there should be.