'MacGruber 2' Will Have "The Craziest" Opening Sequence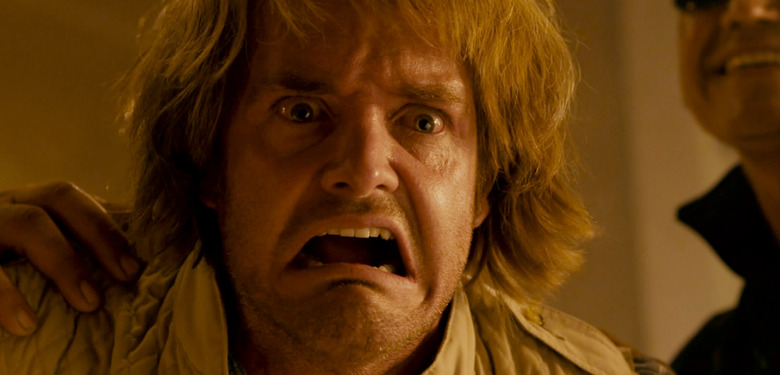 After a weak performance at the box office, a MacGruber sequel appeared out of the question. Once the film hit home video, though, the movie gained a following. It's been five years since the first film, based on the SNL parody of MacGyver, came out, and a follow-up seems more possible than ever. If and when the sequel is made, at least we can expect a crazy MacGruber 2 opening sequence. Learn more after the jump.
MacGruber's star and co-writer, Will Forte, has been interested in making a sequel for a few years now. At this moment, Forte and his co-writer John Solomon (Saturday Night Live) are working on the first draft. Earlier in the year Forte sounded optimistic the project would move forward.
It seems like we have a realistic shot at getting it made. We have a loose outline of the first couple of acts, which we're really excited about. So we've just got to flesh it out a little more. If [The Last Man on Earth] were to ever be successful enough to get a second season, we'd probably have to wait until after that season to make it. If the show isn't successful enough to do that, we'd probably jump in right away.
So, you can blame The Last Man on Earth's success for holding up MacGruber 2. Forte hasn't discussed any plot details yet, but he did mention to Screen Crush that he and his creative partners have an idea they're quite proud of. The actor is promising a crazy MacGruber 2 opening sequence.
There is a possibility of starting it in a way that you would never ever start an action movie. We have this idea for a cold open, which we just don't know if we have the balls to do. And we've done some crazy stuff. This is just like, 'Do we really want to do this? Is this how we want to start out the movie?' It's pretty gnarly. But we might just have to do it.
MacGruber was a pretty cheap movie to make compared to most studio films, so it's unlikely anyone at Universal will get in their way of delivering a ballsy opening. Forte and director Jorma Taccone embraced the weirdness of the first movie, in all the right ways, so if Forte is calling the opening of MacGruber 2 "crazy," then it must really be crazy.
The plan is for Taccone to direct the sequel. He is currently in post-production on Conner4Real, which he co-directed with fellow Lonely Island member Akiva Schaffer (Hot Rod).