Star Wars Rebels Season 2 Trailer Promises Epic Confrontations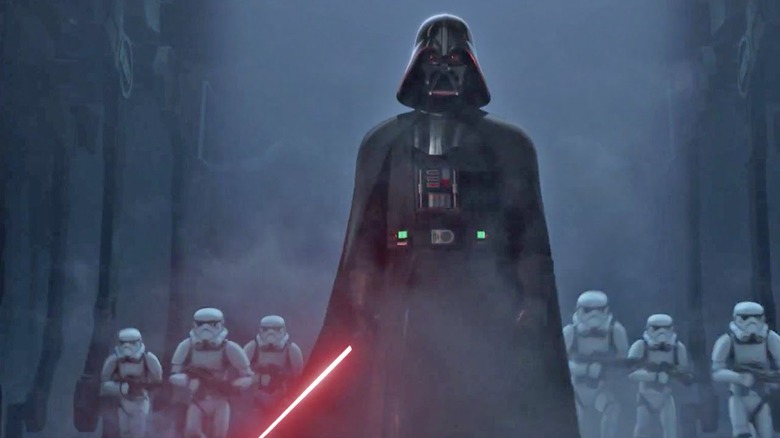 DisneyXD is at New York Comic Con this week to promote the upcoming second season of Star Wars Rebels. But you don't have to be at the Javits Center to get a glimpse of season 2. Lucasfilm has released a new Star Wars Rebels Season 2 trailer, which reveals a lot about the upcoming season including the return of long lost friends, epic confrontations, new ships and much more. Hit the jump to watch it now.
The following Star Wars Rebels Season 2 trailer comes thanks to the Star Wars Tumblr page. Before you watch the trailer, please know that the following trailer seems to have a lot of reveals and spoilers for Star Wars Rebels season 2.
The new trailer focuses on the characters at the core of the upcoming second season. The Empire is tightening its grip, and we see glimpses of new vehicles from both the Rebels (looks like a modified b-wing with a red paint job) and the Imperials (what is that Star Destroyer-looking ship?). We also meet some old friends, like Captain Rex,  a veteran clone trooper captain who led the Grand Army of the Republic's acclaimed 501st Legion during the Star Wars: The Clone Wars.
We also get to see hints that our small ragtag group isn't meant to be part of a bigger military-style group in this war against the Empire. Meanwhile, Ezra Bridger is out to find his lost parents, and Darth Vader is out to find Anakin Skywalker's apprentice Ahsoka Tano who may lead him into a a confrontation with other Jedis like Ezra and Kanan.
But is Ezra even a real Jedi? The concept of a "pirate Jedi" is introduced here, which is something that very well could come into play in the upcoming live-action Star Wars saga films.
Here is the official synopsis for the upcoming second season:
In "Star Wars Rebels" Season Two, past lives will be revealed and the destiny of our heroes will be changed forever. The transformative new season resumes with Imperial oppression on Lothal growing stronger and the rebels seeking out new allies and additional resources to sustain their fight against the evil Empire. With the help of Ahsoka Tano, the crew of the Ghost enlists some old friends: ex-clone troopers who fought in the Clone Wars. As the rebels grow in number, so do their enemies. New Inquisitors are dispatched by Darth Vader and sent to crush any threat of rebellion. Through dangerous rescue missions, thrilling space chases, and spectacular lightsaber duels – the bond of our rebel crew will be put to the test like never before.
Star Wars Rebels Season 2 will begin airing on October 14th 2015 at 9:30pm/8:30c on Disney XD.