'Toy Story 4' Gets A New Release Date As 'Cars 3' Slides Into Its Old Spot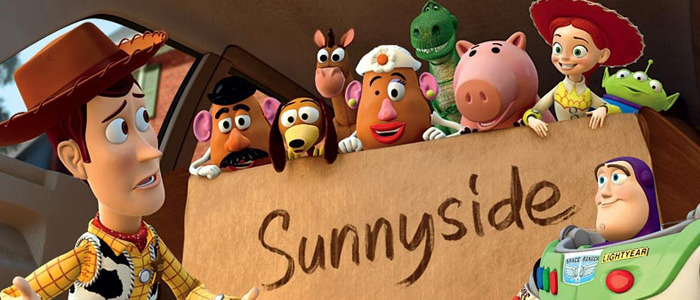 Pixar fans already counting the days to Toy Story 4's 2017 release date need to reset their calendars. The fourth outing of Woody, Buzz, and the rest of the gang has been officially pushed back a year, and that shiny parking space of a release date now belongs to Cars 3.
More on the new Toy Story 4 release date can be found after the jump.
Toy Story 4 will now open on June 15, 2018, approximately one year after its originally scheduled opening date of June 16, 2017. Disney's newly revised schedule, with titles set through 2020, is an intimidating thing indeed.
We don't know too much about Toy Story 4 at the moment beyond the fact that it will be a love story about Woody reuniting with Bo-Peep and that Rashida Jones has a hand in writing the screenplay. The reasons for the change in release date are unknown and anything we say here will be baseless speculation that shouldn't be treated as fact in any way. So how about we engage in some baseless speculation that shouldn't be treated as fact in any way?
Pixar has never been shy about reworking or canceling films that don't pass muster. Toy Story 2 was famous reworked from the ground up and the upcoming The Good Dinosaur was delayed and its director replaced when the project wasn't coming together in a way that pleased the studio's brain trust. That's not to say that Toy Story 4 is in trouble in any way, but this change could imply that Pixar realized they need another year to get this one right and made the call. After all, this is the studio's flagship series – they don't want to screw this one up just to hit a release date. If that means the new installment arriving eight years after Toy Story 3, so be it. After all, there was 11 years between parts two and three. This wait will be a cakewalk.
The other half of this news is Cars 3 shifting into that June 16, 2017 spot. Let's just be honest with ourselves here: you'll be hard-pressed to find anyone (besides little kids, perhaps) who is particularly excited about this. Still, we can't begrudge the studio this cash cow. If a Cars movie every few years helps stuff like Inside Out get made, more power to 'em.
Also included in Disney's new schedule, wedged around so many superhero sequels and fairy tale movies, are two untitled Pixar movies. Other than them being scheduled for March 13, 2020 and June 19, 2020, we can't tell you a single thing about them. However, it looks like 2020 will be the rare year to feature two new movies from Pixar. Whether this will be the new, ongoing plan or if this is just some kind of anomaly is currently unknown. On one hand: Hooray! More Pixar! On the other: Uh...will this drastically increased output make the movies suffer? This is your chance for some baseless speculation!
For those keeping track, here's what the fully announced Pixar slate currently looks like:
We're proud to present the official release dates for our upcoming slate of films through 2019. pic.twitter.com/1cbmRnVv03

— Pixar (@Pixar) October 8, 2015
For those who don't want to squint, The Good Dinosaur arrives on November 25, 2015, Finding Dory on June 17, 2016, Cars 3 on June 16, 2017, Coco on November 22, 2017, Toy Story 4 on June 15, 2018, and The Incredibles 2 on June 21, 2019.