Steve Jobs' Widow Tried To Stop The Movie; Apple Design Chief Jony Ive Speaks Out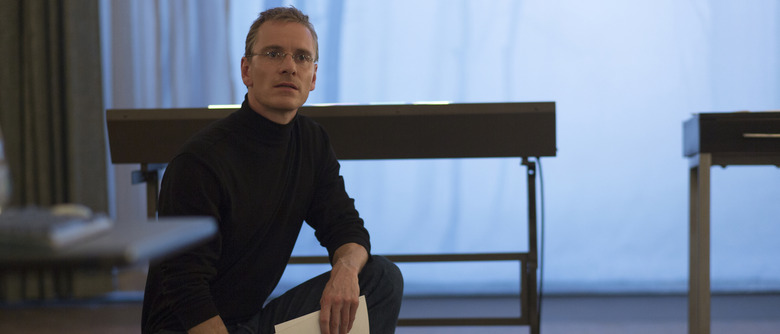 Critics love Steve Jobs, but among those who knew the man personally, reactions to the project have been more mixed, to say the least. A new report claims Jobs' widow Laurene Powell Jobs actively lobbied actors like Leonardo DiCaprio and Christian Bale to turn down the project, while Apple design chief Jony Ive has spoken out against the film. Read the Steve Jobs movie Laurene Powell Jobs and Jony Ive objections after the jump.
Ives admitted to the Wall Street Journal that he hasn't yet seen Steve Jobs. However, based on what he's heard of it so far, he says he thinks it's "ever so sad" that the film portrays Jobs as someone he doesn't "recognize at all." "How you are portrayed can be hijacked by people with agendas that are very different than your close family and your friends," he said. "That's a bit of a struggle personally."
While he acknowledged Jobs was a tough boss, Ives insisted Jobs wasn't "an a**hole" for demanding to get things right. "You could've had somebody who didn't ever argue, but you wouldn't have the phones you have," he said. "There wasn't this grand plan of winning or very complicated agenda," he continued. "That stands in such contrast to how he's been frequently and popularly portrayed."
Powell Jobs went even further with her objections. She was not a fan of the book on which the movie is based, Walter Isaacson's Steve Jobs, and according to the WSJ, believed "that any movie based on the book could not possibly be accurate." Sources who spoke with THR says her efforts to block the movie included calling DiCaprio and Bale to dissuade them from take the role, and pressuring each of the major studios not to pick up the project.
Once plans for the movie got rolling, Powell Jobs refused to participate. While screenwriter Aaron Sorkin spoke to many who'd been close to Jobs, Powell Jobs refused to meet with him. Nevertheless, Sorkin has said he believes she'll be "pleasantly surprised" if she ever gets around to seeing the movie. (For the record, Powell Jobs is not featured or even mentioned in the film.)
Steve Jobs is not surprisingly proving controversial among the people who knew the real Steve Jobs. Earlier, Apple CEO Tim Cook blasted "opportunistic" Steve Jobs movies, though he hadn't seen Boyle's film at the time either. On the flip side, Apple co-founder Steve Wozniak praised the movie after seeing a rough cut. "I felt like I was actually watching Steve Jobs," he said.
Normally, we wouldn't put much stock in the negative opinions of people who haven't actually seen the movie they're criticizing. But it's interesting to get a perspective on what is, by all accounts, a not-very-flattering portrayal of the late tech CEO, and it's hard to blame his loved ones for refusing to watch what they believe will be a painful smear job.
For the rest of us, Steve Jobs gets a limited release this Friday before rolling out nationwide October 23.