'The Conjuring 2' Set Photo Welcomes Back Ed And Lorraine Warren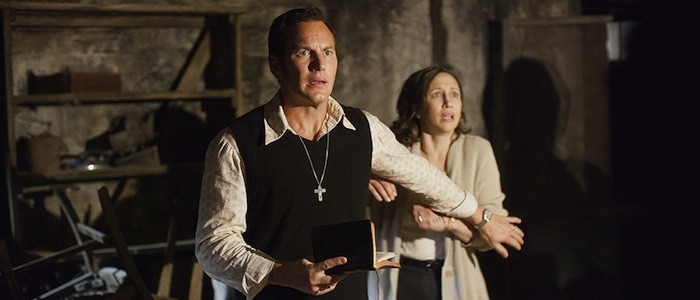 No horror film in recent memory has demanded a sequel more than The Conjuring. James Wan's 2013 haunted house extravaganza remains one of the smartest, spookiest, and classiest mainstream genre films of the past few years, with husband-and-wife paranormal investigators Ed and Lorraine Warren being the most exciting horror protagonists to emerge in quite some time. So yeah, of course you'll want to take a look at a new photo taken on the set of The Conjuring 2: The Enfield Poltergeist, especially since it features Patrick Wilson rocking some killer sideburns.
Check out the new The Conjuring 2 photo after the jump.
Wan shared the image on Twitter and it features him, Wilson, and Vera Farmiga posing for a nice photo in-between takes. Seeing those actors in-character as the Warrens and smiling is a weird sight. Those two are going to be all furrowed brows and yelling and screaming in the actual movie.
Those sideburns though. Between this and season 2 of Fargo, Wilson is really banking on his ability to rock the '70s look these days. And can you blame him? The man pulls it off.
The exact plot of The Conjuring 2 is unknown, but if you Google "Enfield Poltergeist," you'll discover the story of an English public house that was supposedly home to a not-so-friendly ghost. The Wikipedia page for the incident (and trust that as far as you can throw it) actually cites the real Ed Warren, who apparently claimed that demonic activity was the source of the haunting.
So that's probably the core of the movie, which will undoubtedly spin off into whatever territory Wan and company desire. We just hope there's at least one more scene where Farmiga gets to encounter something utterly terrifying and be like "Oh, yeah. This is totally normal for me."
The Conjuring 2 is something of a victory lap for Wan, who catapulted up the directorial A-list this summer with the record-shattering Furious 7. After building his career on a foundation of horror movies like Saw and Insidious, he tried his hand at major studio filmmaking and walked away with one of the biggest movies of all time. Not bad. Not bad at all. The fact that he's returning to his original genre before he sets off to make Aquaman for Warner Bros. warms our chilly little hearts. Aw, he hasn't forgotten about us!
Although this new photo gives us our first glimpse at Wilson and Farmiga on the set, it's not our first look at the set itself. Wan celebrated the start of filming on Instagram a few weeks ago, sharing a pic that hits all of the right notes. Thick fog, overgrown yard, and creepy swing set? Check, check, check. This is most certainly a horror movie directed by James Wan.
It was also revealed that a priest was called in to bless the set because you can never be too careful with these things. Look, you don't want to be the guy who doesn't call in a priest and then has to halt production because a demon is getting all up in the electricians and such.
The Conjuring 2 is set for a June 10, 2016 release.