Tatiana Maslany In Talks For David Gordon Green's Boston Marathon Bombing Drama 'Stronger'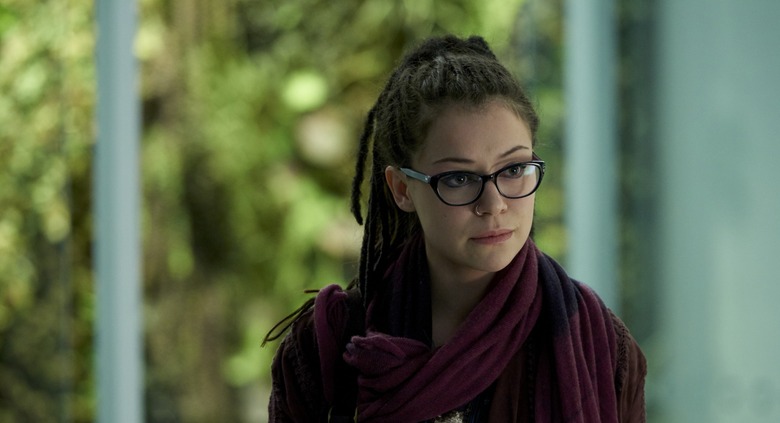 Orphan Black fans have been saying for years that Tatiana Maslany should be a much bigger star than she is, and it seems Hollywood is finally listening. Earlier this year she snagged her first Emmy nom for the series, and now she's in early negotiations for Stronger, Lionsgate's Boston Marathon bombing drama starring Jake Gyllenhaal. David Gordon Green is directing.
Read about the Tatiana Maslany Stronger movie after the jump.
TheWrap broke news of the Tatiana Maslany Stronger project, which is based on a memoir written by Jeff Bauman with help from Bret Witer. Bauman was waiting for his girlfriend when the bombs went off. Three people were killed and another 260 were injured including Bauman, who lost both his legs. Gyllenhaal will play Bauman and Maslany his girlfriend.Stronger looks to be Maslany's highest-profile movie role yet, but anyone familiar with her TV work already knows how staggeringly talented she is. Orphan Black requires her to play several identical clones with very different personalities, and it's a testament to her skill (not to mention her hair and makeup team) that it's easy to tell all of her characters apart.
The one potential downside to this news it what it may mean for Star Wars. Maslany was reported last month as being one of several actresses up for Episode VIII, which enters production in early 2016. Depending on when Stronger shoots, this may mean she's no longer in contention for the role.
Maslany began filming the fourth season of Orphan Black a couple of weeks ago. In addition, she recently wrapped the indie dramas Two Lovers and a Bear with Dane DeHaan and The Other Half with Tom Cullen. Her other credits include Woman in Gold, Cas & Dylan, and The Vow.
John Pollono wrote the script for Stronger. David Hoberman and Todd Lieberman are producing with Scott Silver. Stronger is one of several Boston Marathon bombing movies in the works. The others are Patriot's Day, which will star Mark Wahlberg as police commissioner Ed Davis; and Boston Strong, based on a book by a Boston Herald journalist Dave Wedge.