'Daredevil' Season 2 Poster Is Black And White And Red All Over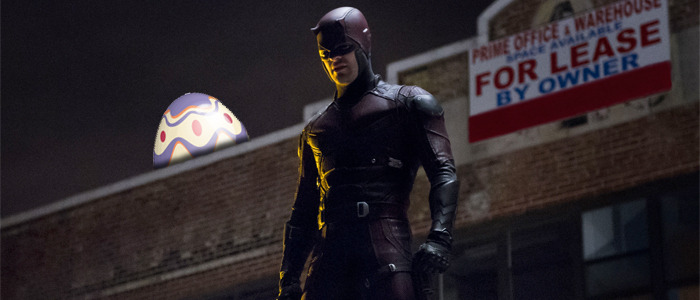 In a year where much of the discussion surrounding superhero movies revolved around when audiences where going to grow tired of superhero movies, Netlix's Daredevil arrived and gave that conversation a swift kick in the throat. Stylish, complex, and and so very different than the rest of its brethren in the Marvel Cinematic Universe, the series won over hardcore comic fans and normal folks alike. While season two of the show is currently filming and won't be ready for some time yet, a new poster had debuted online. You know, just in case you need a reminder to get excited for the next batch of episodes.
To see the Daredevil season 2 poster for yourself, hit the jump!
The poster was unveiled by Marvel honcho Joe Quesada, who announced that it will be available to attendees of New York Comic-Con this week. And since this is the world of comic books we're talking about here, the poster comes in two versions: one with a splash of color and a black-and-white variant. You can check out both versions in the gallery below:
Those hoping for a glimpse at a redesigned costume or a first look at a new character will be a little disappointed. Those content to be teased with stylish concept art will be pleased. However, this isn't just a drawing of Hell's Kitchen's super-powered vigilante. Note the peculiar shape of the spotlight illuminating the ground behind ol' Hornhead. Yep, it looks like season 2 really is going to be about a war between Daredevil and Frank Castle, aka, the Punisher.
A popular, slick, and critically acclaimed show is going to spend an entire season focusing on a conflict between two awesome B-tier superheroes. What an age we live in.
New showrunners Doug Petrie and Marco Ramirez, stepping in for Steven DeKnight, have a lot on their plate. In addition to bringing Jon Bernthal's "Marvel version" of the Punisher to the screen, they also have to find time to properly bring Elodie Yung's Elektra into the mix. As any Daredevil fan will tell you, the latter is going to be one of the most important characters on the entire show. As any comic book fan will tell you, Frank Castle can damage Matt Murdock's body, but Elektra is the one who can damage his soul. And maybe – just maybe – we'll get our first introduction to Bullseye...although he probably won't be played by Jason Statham.
The show will also have find space for Deborah Ann Woll's Karen Page, Elden Henson's Foggy Nelson, Rosario Dawson's Claire Temple, and, of course, our main man Charlie Cox, who is so good at carrying this entire show on his bruised, battered, impossibly Catholic shoulders. Petrie and Ramirez sure have their work cut out for them, especially since they're also going to have to find a way to tp that one-take hallway fight from season one. No pressure, gentlemen.
Daredevil season 2 doesn't have a release date yet, but it's expected to premiere sometime in 2016. We'd put a few bucks on it arriving in April, following the pattern established by the first season.