Meet The Star Of 'Moana,' The Newest Disney Princess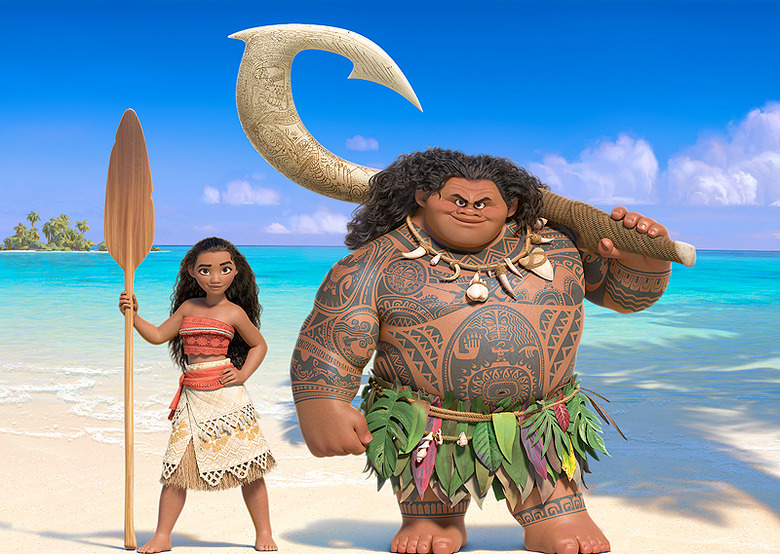 Audiences were blown away by the footage shown from Disney's forthcoming animated adventure Moana at D23 back in August, but at the time, the film from The Little Mermaid veterans Ron Clements and John Musker hadn't yet revealed an actress for the titular role.
That changes today as the studio has announced 14-year old actress Auli'i Cravalho, a native of Oahu, Hawaii, has landed the part. Along with the announcement, Disney released a Moana first look photo (above) showing her character alongside the legendary demi-god Maui (voiced by Dwayne Johnson), as well as a featurette introducing Cravalho and explaining how she got the coveted part.
Here's a featurette introducing Auli'i Cravalho from People:
It's a dream come true for Cravalho, who told the magazine:
"From baby time to now, I wanted to be a Disney princess and then I wanted to be a singer or an actress. Moana is such an amazing character. She's brave, she is so empowered, she knows what she wants and she's not afraid to get it, and I think that's something that I can relate to as well. I just love watching how she goes along in this wonderful movie and grows as a person and helps her culture along the way."
And in traditional Disney animation fashion, this will be a musical adventure, and Dwayne Johnson will actually be singing in the movie as well, according to his new, young co-star anyway. I love that his character is fully tattooed all over his upper body, just like the wrestler turned actor, but hearing him sing will certainly be something new for his fans.
If you want to know more about Moana, there was plenty revealed in our recap of the panel from D23, including some other cool concept art from the film, showing off the daring sea voyage and unique characters from the South Pacific culture.
We're not sure when we'll get to see a teaser trailer, but the movie arrives on November 23rd, 2016, so there might be some kind of tease arriving with The Good Dinosaur next month. We'll find out soon enough.
In the ancient South Pacific world of Oceania, Moana, a born navigator, sets sail in search of a fabled island. During her incredible journey, she teams up with her hero, the legendary demi-god Maui, to traverse the open ocean on an action-packed voyage, encountering enormous sea creatures, breathtaking underworlds and ancient folklore.