'Haywire' TV Show In The Works Following Relativity Bankruptcy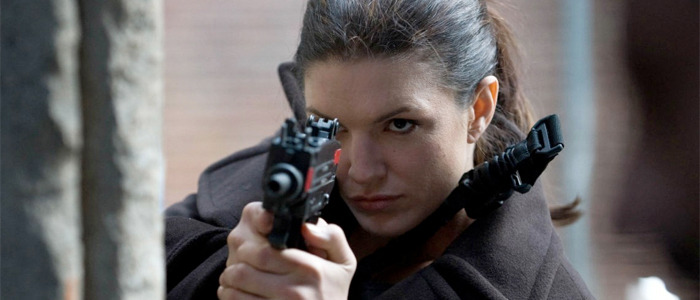 Another Stephen Soderbergh film may make its way to the small-screen. The 2011 action movie Haywire was a very modest box-office hit, and proved that MMA fighter Gina Carano has real screen presence, given the right circumstances, of course. Will she return to play Mallory Kane in the television series? Little is known about the project at this point, but it's an exciting prospect, to say the least. Read more about the potential Haywire show after the jump.
Soderbergh's film was somewhat divisive when it was released, but the action is pure, visceral bliss. The lack of score, tough fighting style, and Carano's towering figure made for some excellent fight sequences. Lem Dobbs's (The Limey) script is conventional, but in a kind of comfort food way, elevated by Soderbergh's playfully direct style. The story lends itself to a TV show, going on weekly badass adventures with Kane.
The show is currently in development at Relativity TV. The independent company follows Relativity's bankruptcy, which has delayed The Crow reboot and other films of theirs. Relativity TV will be an independent company created by senior leaders in Relativity's still-in-progress bankruptcy process. The company isn't dead, as CEO Ryan Kavanaugh is planning on purchasing what is left of the studio's assets, according to The Wrap.
Relativity has made a few movies that could work on television, like Battle Los Angeles or Immortals. Haywire is an interesting choice to start with, that is if they actually follow through on the show. To make it as fun as the movie, the series would need a style as dynamic as Soderbergh's. He's currently busy on season two of The Knick and executive-producing a TV adaptation of The Girlfriend Experience. Regarding the latter, Soderbergh said, "We didn't want to just remake the film. We were intrigued with the idea of going to a new location with a new character on a new trajectory," and that approach would probably be best for the Haywire project as well.
Would Soderbergh consider working on a Haywire TV show? It wouldn't be surprising if he became involved, and the same goes for the film's leading lady Carano. The Girlfriend Experience star Sasha Grey isn't returning for the Starz show, but I could see Carano playing Kane again.
In Haywire, an electrifying tale of espionage and betrayal, a female covert ops specialist (Carano), who works in the deadly world of international operatives, strikes back after discovering she's been double-crossed by someone close to her in the agency.