Will Smith Only Knew Jared Leto As The Joker On Set Of 'Suicide Squad'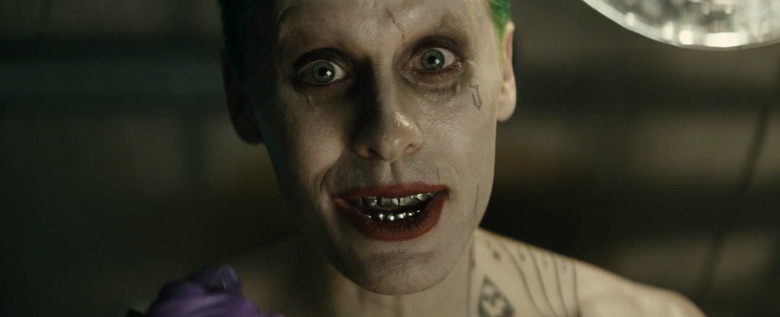 Method acting is nothing new among the stars of Hollywood movies. Names such as Marlon Brando, Robert De Niro, Daniel Day-Lewis and more are known for taking a role and staying in that role through the entirety of production, whether they're shooting a scene or not. And when it comes to his comic book role in Suicide Squad, actor Jared Leto decided to throw himself into the Joker the same way.
In a recent interview, Will Smith revealed that during the six-month production of the DC Comics movie, he never actually met Jared Leto, and only interacted with the actor in character as the Batman villain. Learn more about Jared Leto as the Joker in Suicide Squad.
Smith was speaking with Beats 1 (via Complex) when he talk about Suicide Squad:
I've never actually met Jared Leto. We worked together for 6 months and we've never exchanged a word outside of 'Action!' and 'Cut!' I literally have not met him yet. So, the first time I see him will be 'Hey, Jared. What's up?' He was all in on the Joker.
Leto's wild antics on the Suicide Squad set have made entertainment news before. E! Online previously heard from Leto's co-star Adam Beach (who plays Slipknot in the movie) that the actor sent some strange things to his co-stars on set:
He sent [Margot Robbie] a nice love letter with a black box with a rat in it—a live rat. It was beautiful. Then he sent bullets to Will with a letter, and a dead hog... Basically, what he said was, 'Guys, I can't be there but I want you to know I'm doing my work as hard as you guys.' The video he showed is in character. It blew our minds away.
The video in question must have been something Leto sent the co-stars when he was away from set during production, and it would be great if that made it online at some point after the movie's release. Otherwise, we've already seen how twisted and unstable Leto's Joker will be in the Comic-Con trailer that was officially released after leaking online.
This wouldn't be the first time Leto has undergone a dramatic transformation to get into character for a film. He gained 67 pounds to play Mark David Chapman in Chapter 27, and lost 40 pounds for his role in Dallas Buyers Club (for which he won an Oscar). He put on some muscle and dyed his hair green to play the Joker, but this is the first we've heard of his method acting approach to the character.
One can't help but recall how Heath Ledger, another actor known for his method acting, disappeared into the role of the Joker for The Dark Knight. Sometimes an actor just has to throw himself entirely into a character in order to properly bring him to life, and it seems like in the case of the Joker, that's become a staple of the performance. We'll see how Leto's work paid off when Suicide Squad arrives on August 5th, 2016.