New 'The Good Dinosaur' Trailer Looks Charming And Lovely And Full Of Typical Pixar Goodness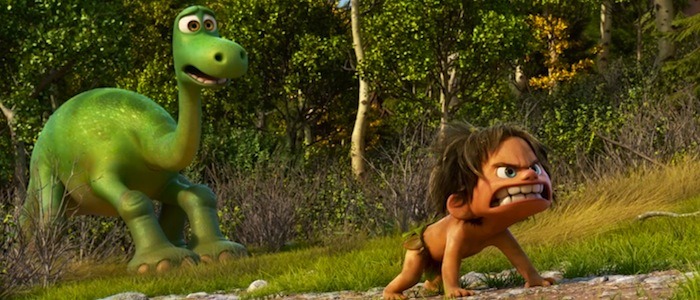 Its production may have been plagued by behind-the-scenes problems, but you wouldn't know it from the latest The Good Dinosaur trailer, which looks as confident and gorgeous as anything Pixar has produced so far. Like so many of the beloved animation studio's movies, this film seems to take a wild high concept and inject it with heart and pathos. You know, the typical "come for the dinosaurs, stay for the sobbing" approach.
Watch the new The Good Dinosaur trailer for yourself after the jump!
Taking place in a world where the asteroid that should have wiped out the dinosaurs barely missed its collision with Earth, The Good Dinosaur follows a young apatosaurus named Arlo (newcomer Raymond Ochoa) who finds himself separated from his family. Now on his own, he finds himself paired with a young human child named Spot and the two form a close bond as they journey across a land full of hazards and predators. It's a typical "boy and his dog" tale... except that the boy is a green dinosaur and the dog is a boy.
Like we saw in the previous trailers, The Good Dinosaur looks stunning. By placing these colorful and exaggerated character designs in environments that often look photo-realistic, Pixar has created a style that we haven't seen in this kind of big-budget mainstream release. It's a borderline experimental decision and it looks like it paid off.
This trailer also gives us our first extended look at the characters themselves. We'll reserve judgment for Ochoa's lead performance until we see the actual movie (he sounds perfectly fine here), but we're actively excited to hear the rest of this cast in action. Hearing the world-weary tones of Jeffrey Wright emerge from an apatosaurus is only topped by the grizzled leader of a T-Rex clan speaking with Sam Elliot's western drawl.
If The Good Dinosaur is as good as its trailer, this could be one of the most important years in Pixar's history. They're coming fresh off Inside Out, which is a genuinely great movie and a serious box office smash (it handily outgrossed Minions, which had a marketing budget that could've bought several small nations). If this one connects, it'll be proof that the studio is capable of releasing two worthy films in a single year. Plus, it'll be further proof that they're unafraid to delay a movie until they get it right. After all, the company has ridden it's "we fixed Toy Story 2 when it was nearly finished and totally broken" story long enough. They need a new tale of how they creatively overcame the odds!
The Good Dinosaur is set to open on November 25. Bring your kids... and your tissues. You know how Pixar movies tend to, uh, blow dust into the theaters for some reason.