Why Loki Was Cut From 'Avengers: Age Of Ultron'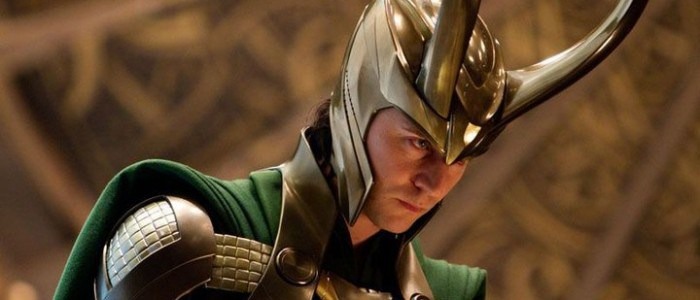 Avengers: Age of Ultron had a lot of moving pieces. The 141-minute long superhero movie has been criticized by some as being overstuffed, but once there was a much longer cut — which might've given the film more breathing room. Writer-director Joss Whedon had to lose a lot of material in the editing room, including a Marvel fan favorite. Learn why Loki was cut from Avengers 2 after the jump.Tom Hiddleston's performance is always a highlight in the Marvel movies. The villain is such a charismatic screen presence, but it's understandable there wasn't time for the character in Whedon's sequel. Speaking with Digital Spy, Hiddleston explained why Loki was cut from Avengers 2.
I was part of the dream sequence for the character of Thor. I shot for a day and enjoyed it very much, and then I received a phone call from Kevin Feige [who] said that in test screenings, audiences had overemphasized Loki's role. They thought that because I was in it, I was controlling Ultron, and it was actually imbalancing people's expectations so Joss and Kevin were like, 'Let's cut it because it's confusing people.'... It made sense to me when I saw that film.
Whedon struggled with incorporating Thor in Avengers: Age of Ultron, including that aforementioned dream sequence. The writer-director was fond of the scene, but it had to go.
The dreams were not an executive favorite. The dreams, the farmhouse, these were things I fought [for]. With the cave, they pointed a gun at the farm's head and 'Give us the cave'. They got the farm. In a civilized way – I respect these guys, but that's when it got really unpleasant. There was a point when there was going to be no cave, and Thor was going to leave and come back and say, 'I figured some stuff out.' And at that point I was so beaten down, I was like, 'Sure, okay... what movie is this?' The editors were like, 'No no, you have to show the thing, you just can't say it.' I was like, 'Okay, thank you, we can figure this out!' You can tell it was beaten down, but it was hard won.
Hiddleston is contracted for three more Marvel films, so we'll still see plenty more of the character. The actor also stars in two movies this fall, so Hiddleston fans should get their fix. The actor is heartbreaking in Guillermo del Toro's Crimson Peak, while he gives a very good performance in the not-very-good I Saw the Light.
Avengers: Age of Ultron is now available on Digital HD and Blu-ray.
Marvel Studios presents "Avengers: Age of Ultron," the epic follow-up to the biggest Super Hero movie of all time. When Tony Stark tries to jumpstart a dormant peacekeeping program, things go awry and Earth's Mightiest Heroes, including Iron Man, Captain America, Thor, The Incredible Hulk, Black Widow and Hawkeye, are put to the ultimate test as the fate of the planet hangs in the balance. As the villainous Ultron emerges, it is up to The Avengers to stop him from enacting his terrible plans, and soon uneasy alliances and unexpected action pave the way for an epic and unique global adventure.