Hoverboard Officially Becomes A Word, 'Back To The Future Part II'-Style Skateboards Announced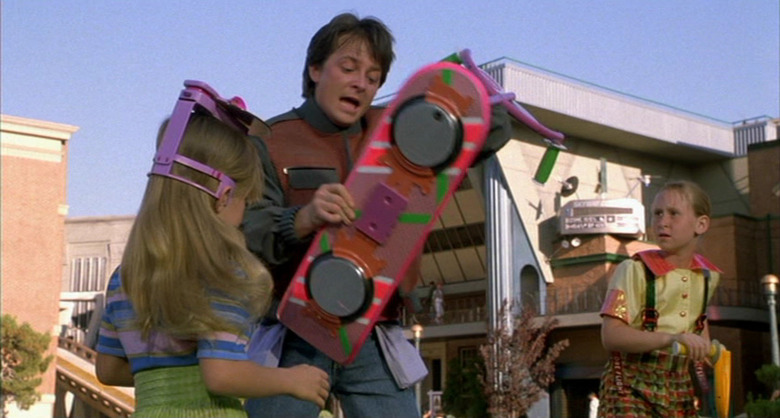 October 21st 2015 is quickly approaching and we don't have flying cars or hoverboards, but some of the Back to the Future 2 predictions are beginning to come into reality. Earlier today we told you that Pepsi was going to produce a limited number of Pepsi Perfect bottles, and a Jaws 19 trailer was released by Universal Pictures. While companies like Lexus are trying to produce a real hoverboard, we're still a ways away from the floating skateboards promised in the Robert Zemeckis-directed sequel.
Well, today is a monumental day in the history of the hoverboard, as the Oxford English Dictionary is finally declaring that "hoverboard" is a word. Also, while we may have to wait a few years for a hoverboard like we saw in the movie, Madrid and Valterra are teaming to release special 30th anniversary officially licensed limited edition skateboards based on the hoverboard designs seen in the film. Hit the jump for more details.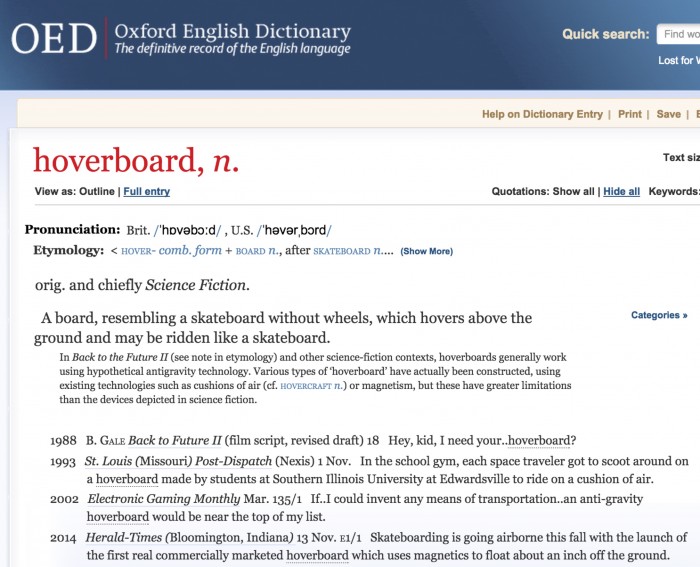 First up, lets go to the official ruling from the Oxford English Dictionary:
While some of the technology on show in that film's futuristic version of Hill Valley's Courthouse Square is now relatively familiar in our own 2015 (tablet computers, worn technology, and biometric locks), other promised advances (flying cars, domestic fusion generators, and holographic 3D movie advertisements) still seem a long way from everyday reality. The real-life status of perhaps the most iconic and coveted of the film's gadgets is less clear-cut, however, and the spike on our frequency graphs also reflects the increasing number of reports of hoverboards in the real world over the last few months. But what is a real hoverboard? The prototypes unveiled by Lexus and ArxPax recently clearly satisfy the most important criteria for Back to the Future fans: they hover. Both rely on the repelling power of intense magnetic fields—generated by superconducting magnets cooled by liquid nitrogen—acting on a special magnetized track. So neither holds out the possibility that we'll all be zooming around towns and cities on them anytime soon. On the other hand, the boards ridden by rapper Wiz Khalifa at Los Angeles airport recently (ridden, that is, until police wrestled him to the ground), and by a pilgrim performing the tawaf in Mecca are hoverboards in name only: the word is currently registered as a trademark in the US and the UK by manufacturers of a miniature, Segway-style, two-wheeled vehicle which stays firmly on the ground. Whether these devices take off (while not actually taking off) remains to be seen; certainly, they haven't been round long enough to be included in the new OED entry, which restricts itself to boards that Marty McFly would recognize.
The official dictionary entry, added in September 2015, states that a hoverboard is "a board, resembling a skateboard without wheels, which hovers above the ground and may be ridden like a skateboard."
The 30th Anniversary Collector's Limited Edition Hoverboard Skateboards are officially licensed by Universal Studios and Madrid and Valterra. The hoverboard skateboards are now up for pre-order and will only be available for a very limited time. On October 25th, 2015 they will stop taking orders, and the 30th Anniversary Collector's Edition hoverboard skateboards will become Back to the Future history. The limited-edition skateboards are being sold by WereGoingBack for $199.95 each, or $880.00 for a complete set of Marty Mcely's pink board and the Griff's Gang boards.