'John Wick 2' Plot Details Promise More Of What You Already Love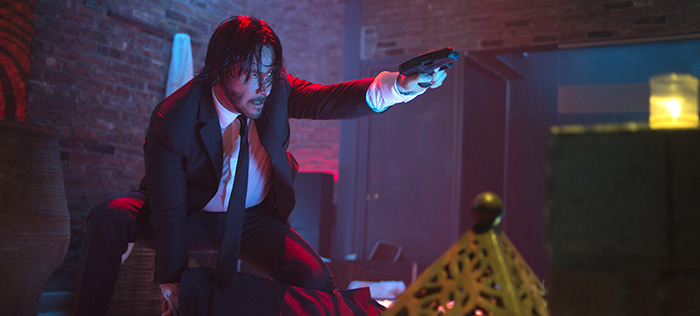 John Wick, with all of its head-shooting, puppy-avenging, Keanu-growling madness, is one of the best action movies ever made. And you know what? I'll say it. We're all thinking it. It's one of the best movies ever made. Screw you, Michelangelo Antonioni! This is real art right here.
Humorous hyperbole (or is it?) aside, the official news of a sequel blew up our brains like a bullet from one of Baba Yaga's pistols. Now that John Wick 2 plot details are really starting to trickle out, our excitement is starting to coagulate and take form. This is really happening, and you can learn the details after the jump.
The good folks at Collider sat down with Keanu Reeves himself to chat about his upcoming horror movie Knock Knock, but naturally, the conversation turned to John Wick 2. Although he wasn't exactly spilling over with specific plot details, Reeves did discuss the main thematic premise of the sequel, which sounds like it will tie in nicely with the concepts explored in the original:
I think we have a really good premise, and it's an organic premise. It's basically — to me there's John Wick and then there's John. You know, John is the married guy whose wife just died, and that five years of his life. Then there's John Wick, who's the mythical assassin. In this, John Wick's past comes and infiltrates John's life and John Wick, in a way, has to fight for John.
In other words, John Wick 2 will follow a similar formula as a great many action flicks – badass hero must break out his special set of skills to protect the side of his life that's been freed from violence and mayhem and shooting dozens of henchmen in the head. That may sound formulaic, but let's remember that the first film was a built on a very typical template of revenge and retribution, except the person being avenged was an adorable Beagle puppy. We trust that director Chad Stahelski and screenwriter Derek Kolstad will find a way to invert our expectations once more.
In related news, Stahelski and Kolstad apparently listened to the fans when it came time to crack this story:
Chad and the writer, Derek Kolstad, they've really listened to what people have enjoyed about the work and how they speak about it. So there's definitely that influence of the other world, the Continental world, the look, the feel, what it is about the movie, what made people like it; is definitely being paid attention to and the world opens up in this chapter.
John Wick isn't just a well-shot, beautifully choreographed action movie – it's also set in a totally lunatic landscape of working assassins, many of whom work out of the swanky, professional-hitman-friendly Continental Hotel. A worthy sequel could expand on that world-building and introduce more strange and amusing rules into this borderline fantastical world. We're not saying they have to make a TV spinoff called The Continental that will expand this series into a large franchise, but they should. Really. C'mon. Pretty please.
Oh, and Reeves promises that the the clean, perfectly shot action of the first film will return and that he's currently training himself in new martial arts techniques so he can showcase all kinds of fresh ways to obliterate people:
We're gonna do the same kind of thing in the sense of — what are the guiding principles? So it's longer takes, know where you are on the space, who's doing what, action with consequence. And then going to other levels of what the gun fu was, which was jiu-jitsu and judo mixed with weapons and different styles of weapon training. So we've been opening up, I've been learning some other tools and different styles of that, and trying to develop some more techniques in terms of judo and jiu-jitsu and bring those elements into the work. And then we have some other things that might be a little different... But it's all organic. It's not like all of a sudden John Wick has superpowers, it's got to be connected to the character.
So yeah, Reeves is saying all of the right things, but this is the moment where we must pause and inject a healthy shot of trepidation into our enthusiasm. John Wick represents an actor and a directing team working at the height of their powers. It was lightning in a bottle and it's tough to recreate such happy accidents. With original co-director David Leitch stepping away to work on another project, can Stahelski capture the same magic solo?
Places enthusiasm cap back on.
Yes.
For more details (and there are a lot of 'em), make sure you check out the full Collider interview linked above. John Wick 2 will shoot this fall for an unspecified release date. Hopefully, everyone involved will have the good sense to call it John Wick Returns or The Life and Death of John Wick or something. John Wick 2 is a just a little too mundane for a such a crazy movie series.