Alexander Payne's Bizarre Comedy 'Downsizing' Lands At Paramount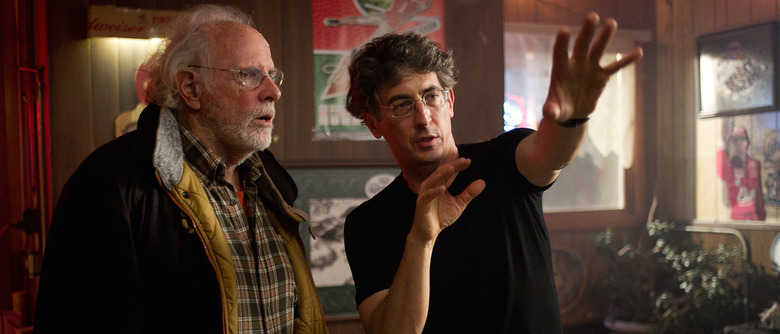 Director Alexander Payne carved out his niche as a chronicler of the mundane, a filmmaker who mines comedy and drama from high school elections and road trips across the midwest. So the fact that his next movie, Downsizing, is a high-concept science fiction comedy should come as a bit of a surprise. Yet he's the kind of guy whose low-key films rack up the Oscar nods and attract big-name talent. So, left turn genre hop or not, Downsizing has already attracted some movie stars... and the attention of a major studio.
Learn all of the details of the Downsizing Paramount acquisition after the jump.
The Wrap reports that Downsizing has officially landed at Paramount, the studio behind Payne's 1999's comedy gem Election and his 2013 drama Nebraska, which was nominated for six Academy Awards. The report contains all of the expected quotes about how everyone is very excited to be working together again and so on and so forth. Here's Brad Grey, chairman/CEO of Paramount:
Alexander will once again bring to audiences a uniquely original film, one that showcases his tremendous skill as a storyteller. We are absolutely thrilled to be working with him again.
Stock quotes aside, any studio that backs a filmmaker as consistently great as Payne deserves a slap on the back (or at least a nod of approval via a blog post). In any case, Downsizing is lucky it has a proven director at the helm and two movie stars in the ensemble because it sounds weird. Like, really weird. Like, weird enough that a lot of people will probably balk at the concept. Here's how The Wrap describes the project:
"Downsizing" tells the story of an Omaha man who joins the throngs of people undergoing a new process that reduces people to a tiny fraction of their size and who moves to one of the many communities of small people that are sprouting up around the world.
You know what they say about science fiction movies – the best genre films use their outrageous concepts to actually be about something. The opportunities for satire with that plot are endless. It may be a sci-fi movie, but Payne's heart still seems to be very much aligned with ordinary men and women. You know, the kind of people who would feel forced to shrink themselves so they could consume fewer resources in order to survive. This is totally the kind of decision that you'd see the characters in About Schmidt and Sideways making.
It certainly helps that Matt Damon (who joined the cast back in November) will headline the project and that Reese Witherspoon will play the female lead. With the backing of a studio, Payne should be able to dig into his wish list of potential actors, which supposedly includes the likes of Alec Baldwin, Neil Patrick Harris, and Jason Sudeikis. Because, you know, it wouldn't be an Alexander Payne movie unless it was jam-packed with actors you like.
Downsizing doesn't have a release date yet, but it will begin filming early next year for an Oscar-friendly fourth quarter 2017 release.