LOL: Watch Disney Characters Invade The 'Star Wars: The Force Awakens' Trailer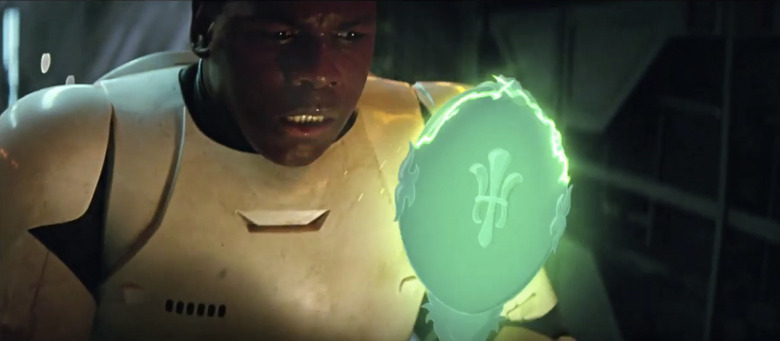 Back at Comic-Con, director J.J. Abrams said that a new trailer for Star Wars: The Force Awakens would be arriving in the fall. That season has arrived, but we're not sure exactly when the new trailer will arrive. A smart bet might be The Good Dinosaur, but that's just speculation on my part.
While we wait, check out this clever Star Wars: The Force Awakens Disney trailer mash-up that takes characters and elements from some of the House of Mouse's classic hand-drawn animated films (and some computer animated too) and puts them in scenes from the second teaser trailer for the forthcoming Star Wars sequel.
Here's the Star Wars: The Force Awakens Disney trailer mash-up from PistolShrimps:
It starts a little rough, but there are some really clever uses of characters after the first 30 seconds or so, especially Sir Hiss from Robin Hood being blasted out of the sky. Plus, I also like the use of the mirror from Beauty and the Beast being used by Finn (John Boyega) to see Rey (Daisy Ridley) speeding away on the desert of Jakku.
There's some strange back-and-forth between an animated Belle from Beauty and the Beast replacing Rey in the trailer, to a shot of the character being modified to look like a live-action version of Belle. But whatever, it's just a fun little edit.
However, perhaps the best crossover element is the use of James Earl Jones' iconic voice as Mufasa from The Lion King being placed over the shot of Darth Vader's melted helmet.
There haven't been many parody trailers of the second teaser trailer for The Force Awakens, but the first teaser got a bunch of mash-ups and re-edits that you can still check out right here. Otherwise, we'll be patiently awaiting the arrival of the next theatrical trailer for Episode VII, and you can bet we'll let you know when it arrives.