Guillermo Del Toro Wants Maisie Williams In 'Pacific Rim 2'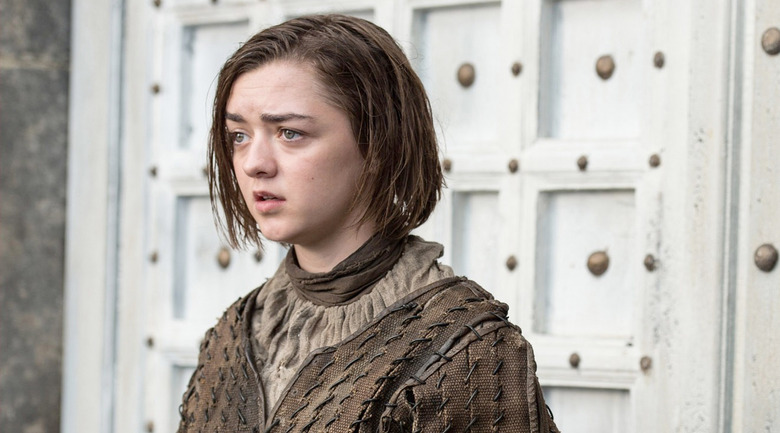 The future of Pacific Rim 2 was uncertain for a little bit, but Universal Pictures is supposedly still dedicated to making the sequel at some point, even though they took it off their 2017 release calendar. And it sounds like Guillermo del Toro is still eyeing certain stars for the sequel, and he just revealed one of the hopefuls.
The director posted on his recently created Twitter page that he had lunch with Game of Thrones star Maisie Williams (Arya Stark), and he very clearly indicated that he will have her on board for Pacific Rim 2.
The Maisie Williams in Pacific Rim 2 casting was teased with this tweet:
Had lunch with Maisie Williams yesterday. Remarkable. Dammit- if PR2 happens, that girl is getting a Jaeger.

— Guillermo del Toro (@RealGDT) October 3, 2015
It's unclear whether they were meeting specifically about Pacific Rim 2 since del Toro has said that he would keep working on it even after the sequel seemed to be in trouble, but clearly the meeting went well enough for him to want Williams operating one of the Jaegers in the sequel.
However, if they weren't meeting about Pacific Rim 2, maybe del Toro wants Williams in the indie he's working on next. We have no details on what that project might be, but there have been rumors about del Toro working on a film described as WALL-E meets Splash. It's unclear whether or not this is the same film, but that sounds like something Williams could be fantastic in as a lead character.
There's also the chance that this project wasn't about anything specific and maybe they just wanted to meet each other to plant the seed of working together on something in the future. These kind of general meetings happen all the time, but they don't always amount to something. But considering del Toro sounds so enthusiastic about working with Williams, this will likely pan out in some capacity.
Williams is keeping pretty busy with Game of Thrones (not to mention guest starring Doctor Who as well), but once the show is over, or maybe if her character gets killed off, she'll be getting plenty of film offers. She's already wanted for the lead role in The Last of Us video game adaptation, but by the time that gets off the ground, she just might be a little too old for the role.
As for when del Toro's next project, whatever it might be, will get off the ground, we don't know. But we'll do our best to keep you posted with the latest updates.