'Bone Tomahawk' Trailer: Kurt Russell Hunts Down Some Cannibals In The West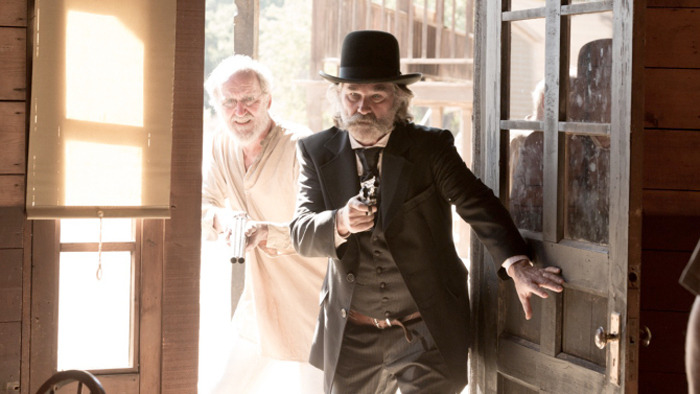 This past summer, Kurt Russell got caught up in one of the biggest blockbusters of the year with a supporting role in Furious 7, and this Christmas he's reteaming with Quentin Tarantino for the anticipated western The Hateful Eight. But before that, we'll get to see him saddle up in a different western as another bad ass cowboy.
Bone Tomahawk sees Kurt Russell as a sheriff who sets out to save some kidnapped settlers from a group of cannibals, and somehow this isn't a straight-up grindhouse movie. Hot on the heels of the film's premiere at Fantastic Fest this past week, the first Bone Tomahawk trailer has arrived.
Here's the Bone Tomahawk trailer:
There's nothing here that looks particularly compelling, with a story that feels like your average slow western. Maybe it's because the trailer for Tarantino's Hateful Eight was so lively that this just looks stale by comparison. Plus, there's something that's just not convincing about Matthew Fox in the West.
Reviews were pretty mixed out of Fantastic Fest, but Guy Lodge at Variety liked it:
"Cowboys-and-Indians antics have rarely been more antic than they are in "Bone Tomahawk," a gleefully grisly genre gazpacho that matches a rousing sense of Old West derring-do to a comic sensibility as dark as chewing tobacco — and at least as much of an acquired taste. But for those with a head for loopily discursive humor (not to mention a stomach for some inspired grotesquerie), S. Craig Zahler's debut feature will come as a most violent delight. Winking explicitly to "The Searchers" with its ostensibly classical tale of four mismatched frontiersmen out to rescue abducted townsfolk from the clutches of a savage (and emphatically fictitious) native tribe, "Bone Tomahawk" may seem over-indulgent at 132 minutes, yet it's the wayward digressions of Zahler's script — navigated with palpable enjoyment by an expert, Kurt Russell-led ensemble — that are most treasurable in a film that commits wholeheartedly to its own curiosity value."
So maybe this isn't that great a trailer, but the movie could end up being worth watching later this month. At the very least, there seems to be a solid lead performance from Russell, and a promising supporting turn by Richard Jenkins. The rest of the cast also includes Patrick Wilson and Lili Simmons.
Craig Zahler wrote and directed Bone Tomahawk, and it hits theaters on October 23rd. If you haven't seen it, check out this cool throwback poster: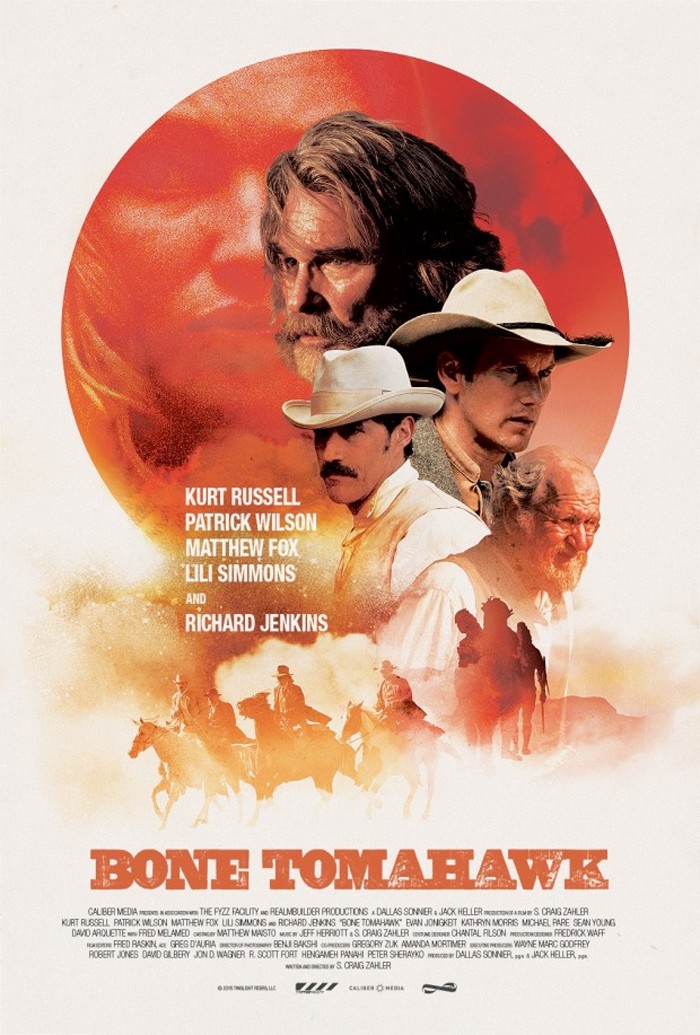 When a group of cannibal savages kidnaps settlers from the small town of Bright Hope, an unlikely team of gunslingers, led by Sheriff Franklin Hunt (Kurt Russell), sets out to bring them home. But their enemy is more ruthless than anyone could have imagined, putting their mission – and survival itself – in serious jeopardy. Kurt Russell (The Hateful Eight, Tombstone) leads an all-star cast, including Patrick Wilson (Insidious), Matthew Fox ("Lost") and Richard Jenkins (The Cabin in the Woods) in this gritty, action-packed thriller chronicling a terrifying rescue mission in the Old West.