James McAvoy Replaces Joaquin Phoenix In M. Night Shyamalan's Next Movie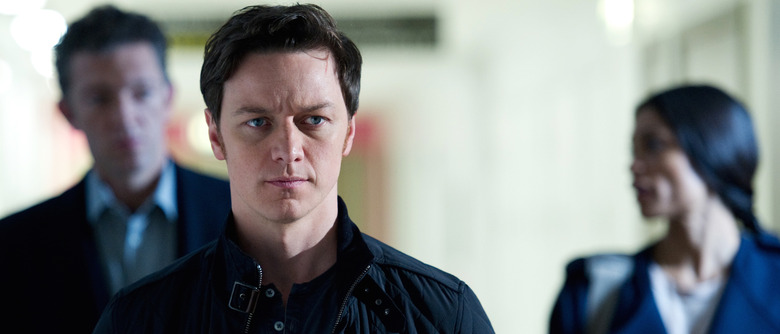 Having delivered his best movie in a decade and a half with The Visit, M. Night Shyamalan has started assembling the pieces for his next film. And he's already landed a promising name. James McAvoy is in talks for the supernatural thriller, which is being produced by Jason Blum. Read about the James McAvoy M Night Shyamalan project after the jump. 
THR got the scoop on the James McAvoy M Night Shyamalan movie. McAvoy is reportedly in negotiations for the untitled pic. He replaces Joaquin Phoenix, who was circling the project this summer. Shyamalan and Phoenix previously worked together on 2002's Signs and 2004's The Village. It's unclear why Phoenix has dropped out, but the trade's sources say he never closed a deal.
Plot details on the new film are being kept under wraps, as is typical for Shyamalan. All we know is that it's described as a "supernatural thriller," believed to be on the low-budget side. Marc Bienstock (Shyamalan's The Visit) is producing the project along with Blum, while Ashwin Rajan and Steven Schneider serve as executive producers.
Shyamalan is finally clawing his way back to respectability after a string of misses. His new TV show Wayward Pines was a solid hit with critics and audiences. And while The Visit wasn't exactly a Sixth Sense-level juggernaut, it was by far his best received film in years. It was another box office success for Universal, grossing $67 million worldwide on a budget of just $5 million.
McAvoy recently finished shooting on X-Men: Apocalypse, which sees him playing Charles Xavier for the third time. (Though he's only getting to play Professor X bald for the first time.) The superhero sequel is due out next summer. But before that, he'll be seen with Daniel Radcliffe in Victor Frankenstein, a retelling of Mary Shelley's seminal horror novel.
The British actor has shown a willingness to mix it up with his roles, jumping between big-budget blockbusters and low-key indies, animated kids' movies and grown-up dramas. He doesn't have much horror on his résumé, though. The Shyamalan movie should be a nice change of pace for him, as long as he gets the Shyamalan who made The Visit and not the one who subjected the world to The Last Airbender.