Steven Soderbergh Hasn't Changed His Mind On Retirement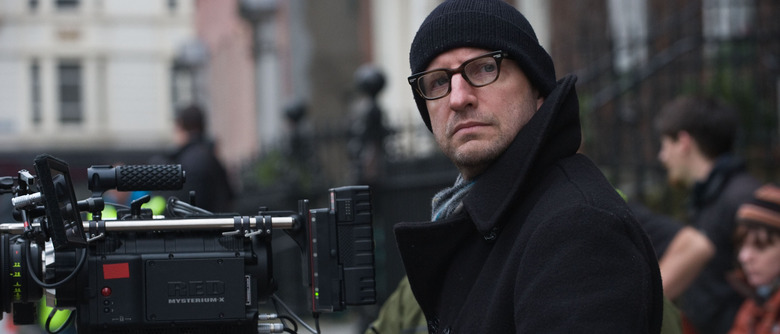 It's only been two years since Steven Soderbergh left behind filmmaking. Ever since "retiring," though, Soderbergh has found a more than welcoming home in television. The last movie we saw from him was for TV, HBO's Behind the Candelabra, and he's about to debut the second season of his show The Knick. The news of an early Soderbergh retirement was saddening, to say the least, but understandable. Read his current thoughts on retirement and TV after the jump.
The director behind Traffic, Ocean's 11, and Sex, Lies, and Videotape has been keeping busy these past few years; he directed both seasons of Cinemax's The Knick, shot the wonderful Magic Mike XXL, and continues to release his own edits of classic films. He's been so busy, the Soderbergh retirement is hardly a retirement. In case you're wondering if he's changed his mind or is toying with the idea of returning to filmmaking, though, he hasn't. 
In an interview with The Hollywood Reporter, the director once again talks about why he's not interested in directing a theatrical feature.
Just from my very personal, subjective point of view, I don't have an interest in making another theatrical film unless my attitude changes or the business changes. There are a series of things that have contributed to it — I think the audiences have a played a role, the studios have a role in it — but film is increasingly fear based in its decision-making, and that's not a good base to be creative.
For Soderbergh, making movies stopped being fun. With television, he's not struggling to tell the stories he wants to tell. Soderbergh is executive producing an adaptation of his film The Girlfriend Experience, for Starz, co-written and directed by Amy Seimetz (Upstream Color) and Lodge Kerrigan (The Killing). Once again, he's had a more easygoing, satisfying experience in television.
That's [Starz CEO] Chris Albrecht [who was convinced about the show], whom I've known a long time — since he was at HBO. I said to him: "Let's talk about a number at which we can turn in the weirdest thing imaginable — and you won't get hurt financially." He gave us a number and we said, "OK, we'll make it for that." I can tell you he is very much viewing this as a test case [or] a paradigm they can use for making series in the future. This is really auteur TV; it's like what I'm doing on The Knick, what Cary Fukunaga did on True Detective. One filmmaker doing the whole thing — there's unification that comes with that [and you] can't do it any other way. This is a real philosophical shift, and it's making some people very nervous.
What Soderbergh has accomplished in television makes David Cronenberg's (Maps to the Stars) comments from yesterday slightly questionable. Cronenberg has a point that, as a director in television, you're more often than not a traffic cop, but there's now room for auteur filmmakers in TV, so long as you're involved in a series from the beginning. Sense8 is unmistakably a show from the Wachowskis (The Matrix), and in the case of The Knick, Soderbergh's voice rings loud and clear in the acclaimed series.
The Knick season two premieres on October 16th. Soderbergh is also developing a mysterious HBO project called Mosaic, the details of which are being kept relatively secret.