Cool Stuff: Find Out How To Buy 'The Iron Giant' Posters By Brad Bird And Jeff Granito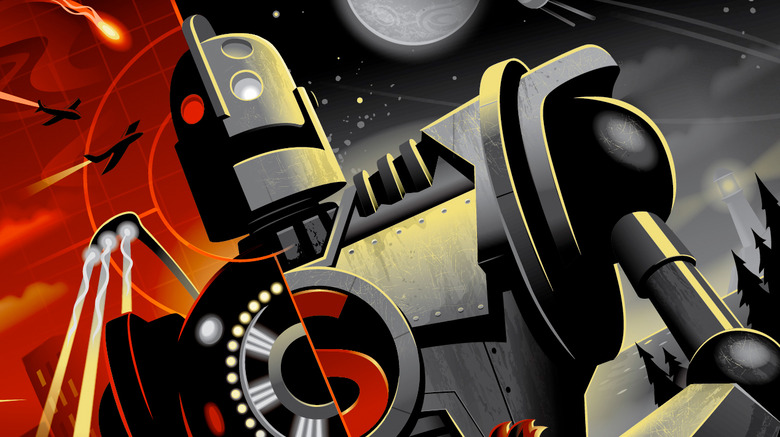 This past week, The Iron Giant returned to theaters with the Signature Edition, and the animated favorite from Warner Bros. is quite gorgeous on the big screen. If you missed it, you've got one more chance to see it in theaters this weekend on October 4th, so check your local theater listings to find out when and where you can catch it.
But if you're just waiting for the The Iron Giant: Signature Edition to hit Blu-Ray and DVD, and you're looking for some other cool stuff to show your love for the 1999 cult favorite, we have goods news. Two new Iron Giant posters are going on sale today from Brad Bird himself and Jeff Granito. One you've seen, but the other is brand new.
First up, here's the officially licensed Brad Bird poster for The Iron Giant: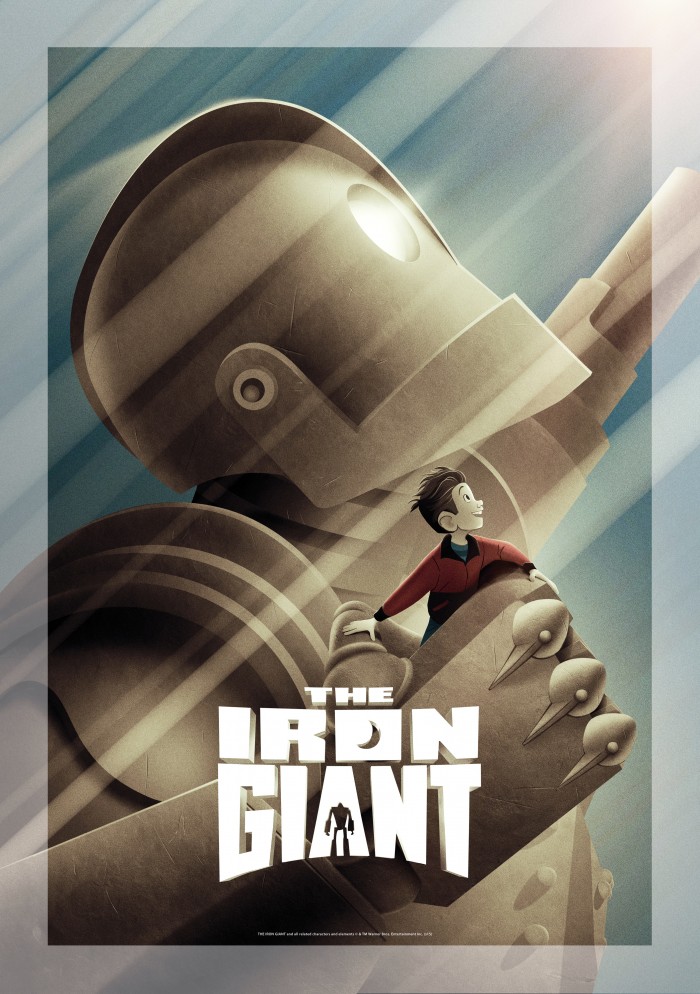 This print has been used to promote the signature edition, and you can finally get your hands on it today at 12:30pm Eastern/9:30am Pacific. There will be a standard version of the print with an edition of 280 that will cost you $65 at the Dark Hall Mansion store online right here.
Or if you're a huge fan of The Iron Giant, you can shell out $250 for a metal version of the print. The metal version will be a timed release, so how ever many are sold is how many will be made. No more and no less. You'll be able to purchase that until 11:59 PM PST Friday, October 9th, so you'll have a whole week to save up money if necessary. Both versions are 18x24 inches.
If that poster doesn't interest you, maybe you'll want a piece from Jeff Granito:
As you can see, there are three different versions of this piece available. The far left is the standard version available in an edition of 280 for $65. The middle is the variant with an edition of 50 that will cost $100. And the far right is a metal version which will also be a timed release available for purchase until 11:59 PM PST Friday, October 9th, just like the above Brad Bird poster.
These are both great pieces of art paying tribute to The Iron Giant, and I'm pretty sure I'll be buying at least one of them (as long as they don't sell out super quickly). Both can be bought at Dark Hall Mansion online, so get your credit card ready. And if you haven't had the pleasure of seeing The Iron Giant on the big screen, it's worth the price of admission to catch it this weekend on October 4th.