Exclusive: Details On 'Back To The Future' Trilogy Marathon At AMC Theatres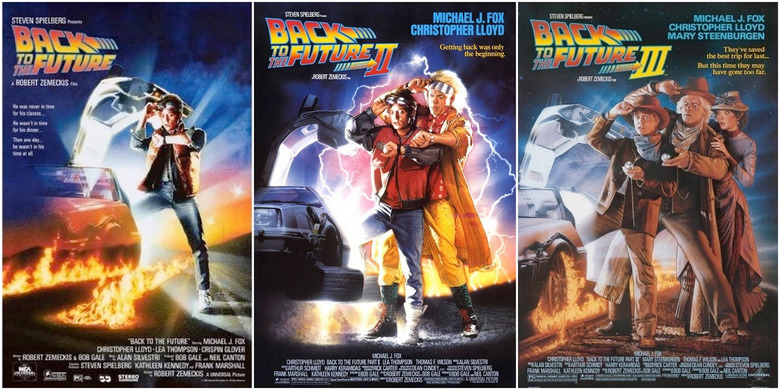 As we heard previously, AMC Theatres was hosting a marathon of the Back to the Future trilogy at a bunch of their cineplex locations, but we hadn't yet heard any details about times or ticketing. Thankfully that changes today as we've just confirmed what time the trilogy will start playing on October 21st (which has been dubbed Back to the Future Day), and how much it's going to cost you to attend the AMC Theatres Back to the Future marathon.
First of all, here's the most important thing, the schedule for the Back to the Future trilogy marathon (local time):
Back to the Future – 4:29pm
Back to the Future Part II – 7pm
Back to the Future Part III – 9:30pm
That means there's roughly a half-hour intermission between each movie. And that's mostly because individual tickets are being sold for each movie rather than just one ticket for the entire trilogy. This way you can choose whether you want to watch one, two or all three of the movies. After all, it may be the 30th anniversary of the original Back to the Future, but it's also the exact day that Doc Brown and Marty McFly travel to the future in the second movie, which may have some people just wanting to watch the sequel.
For those of you worried that this individual ticket sale set-up will be a drain on your wallet, AMC Theatres isn't charging their normal evening or even afternoon price for each movie. Instead, a ticket to each movie will be available at the pre-noon ticket price. We can't tell you specifically what that is though, because it varies depending on what market you live in. For example, my local AMC Theatre location charges $5.29 for a pre-noon ticket, but others charge $7.29, so you'll have to check with your local theater for the exact ticket price.
Speaking of which, you'll want to check with your local theater anyway to make sure they're actually participating in this marathon event, because not each and every theater will be playing Back to the Future. Sadly it doesn't sound like there's going to be any sort of commemorative poster at this event, but if that changes we'll let you know.
At the very least it's cool that all of the Back to the Future movies will be back in theaters on October 21st. And even cooler is that the marathon starts at 4:29pm, the exact time that Doc and Marty arrive in the future in Back to the Future Part II. However, it would be a little more fun if that's when Back to the Future Part II started, or even more impressive if they timed the movie so their trip to the future coincided with real-time. But that would take much more effort, and we'll take what we can get.
If you're curious about any other Back to the Future events or goodies coming, be sure to check out our Definitive Guide to Back to the Future Anniversary Events and Memorabilia. There's some great stuff in store for fans over the next month and beyond!