Report: Zack Snyder And HBO Discussing 'Watchmen' TV Series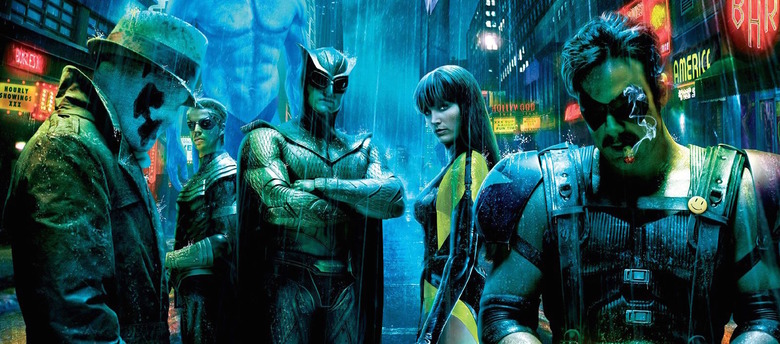 UPDATE: HBO has confirmed to Deadline that "preliminary discussions regarding Watchmen have occurred," but stresses that no deals are in place.
Director Zack Snyder may be returning to the world of the Watchmen, this time on a smaller scale. According to a new report, the filmmaker has been in meetings with HBO about the possibility of a Watchmen TV series. Read about the possible Watchmen TV series after the jump.
Collider got the scoop on the Watchmen TV series. Their sources have said only that conversations about the show have taken place. Nothing has officially been confirmed or greenlit, and as the site points out HBO is somewhat unpredictable when it comes to launching new series. In other words, there's a decent chance the Watchmen TV series will never actually get off the ground.Update: Variety confirms that very early talks are taking place between HBO, Warner Bros., and Zack Snyder. A spokesperson for HBO said, "Preliminary discussions regarding 'Watchmen' have occurred but we have no additional information and no deals are in place."
First published in the 1980s, Alan Moore's Watchmen is one of the most influential and acclaimed comic book series of all time. Naturally, Hollywood tried for decades to get a movie adaptation off the ground, in various iterations with various artists, but no one succeeded until Snyder made his feature version in 2009.
His film was met with mixed reactions. Some fans found it slavishly faithful to the source material, while others complained about the changes he'd made. Still others were enamored with Snyder's darkly stylish vision, and impressed at his handling of a supposedly "unfilmable" storyline. In any case, it flopped commercially. Watchmen earned $185 million worldwide on a budget of $130 million.
As of now it's not clear what kind of Watchmen TV series HBO and Snyder have in mind. It could be a direct adaptation of Moore's graphic novel. The polarized reactions to the movie may suggest there's still room for another, more universally liked Watchmen adaptation. Or perhaps HBO is considering a spinoff of some kind, or a prequel or a sequel.
It's worth pointing out that there's fresh, related source material they could draw from. In 2012 DC published a series of comic book prequels. Collectively called Before Watchmen, the series consisted of eight limited series, each focused around a specific character, plus a one-shot for a total of 37 issues.
Also unknown is in what capacity Snyder will be involved — whether he'll adapt, write, direct, some combination of the above, or none of the above. Nor do we know whether it could tie into Snyder's 2009 film. It does seem unlikely to cross over with the either the big-screen DC universe, which is being shepherded by Snyder, or any of the various small-screen DC universes.
In a lot of ways, a Watchmen HBO series makes sense. The property's prestigious reputation and grown-up sensibility make it a good fit for HBO's brand, especially if the network is looking for a genre hit to replace Game of Thrones, and superhero shows are hot right now. Plus, not for nothing, HBO and DC Comics are owned by the same parent company (Time Warner).