Gugu Mbatha-Raw And More Up For 'Robin Hood: Origins' Female Lead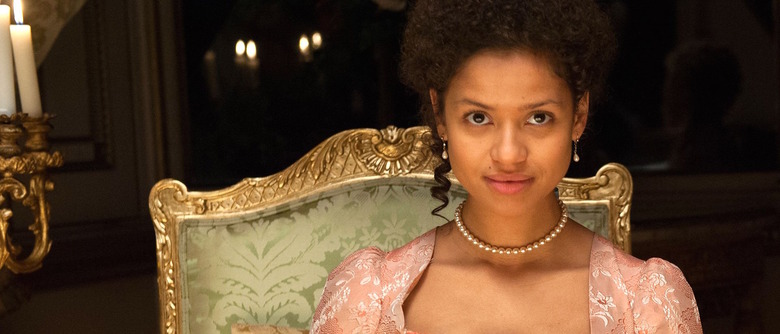 With Taron Egerton now in place to play the title role, Robin Hood: Origins is turning its attention to his leading lady. Gugu Mbatha-Raw (Beyond the Lights) and Eve Hewson (The Knick) are among the actresses in contention for the film being directed by Otto Bathurst (Peaky Blinders). Find out who's on the Robin Hood Origins female lead shortlist after the jump. 
Deadline reports four actresses are vying for the Robin Hood Origins female lead: Mbatha-Raw, Hewson, Lucy Fry, and Gaite Jansen. None of them have received a formal offer at this point. Here's the rundown on each of them:
Gugu Mbatha-Raw is probably the most high-profile of the four, having recently starred in Belle, Beyond the Lights, and Jupiter Ascending. She'll soon be seen in the NFL drama Concussion and Disney's live-action Beauty and the Beast.
Eve Hewson is a series regular on Cinemax's The Knick, and co-stars this month in Steven Spielberg's Bridge of Spies. Her previous film credits include Enough Said, Blood Ties, and This Must Be the Place. She is also known for being Bono's daughter.
Lucy Fry starred in the underrated Vampire Academy and will appear alongside James Franco in Hulu's Stephen King miniseries 11/22/63.
Gaite Jansen is a Dutch actress who hasn't quite broken out internationally. Her last film was the coming-of-age drama Supernova.
Scripted by Joby Harold (Guy Ritchie's Knights of the Roundtable: King Arthur), Robin Hood: Origins is described as a gritty, revisionist take in the vein of The Dark Knight. Our hero returns home from the Crusades to find that Sherwood Forest has been overrun by corruption and evil, and forms a band of outlaws to right some wrongs.
Harold and Tory Tunnell are producing Robin Hood: Origins through Safe House, along with Basil Iwanyk and Appian Way's Leonardo DiCaprio and Jennifer Davisson. The project is considered a priority for Lionsgate.
There are several other Robin Hood projects in the works at the moment, including Disney's Nottingham & Hood, Sony's Hood, and Warner Bros.' untitled one, but Origins seems to be the furthest along. As reported by THR earlier this week, shooting on Robin Hood: Origins is expected to begin in February. No release date has been set.