'A Bigger Splash' Trailer: Tilda Swinton And Ralph Fiennes Have Some Fun In The Sun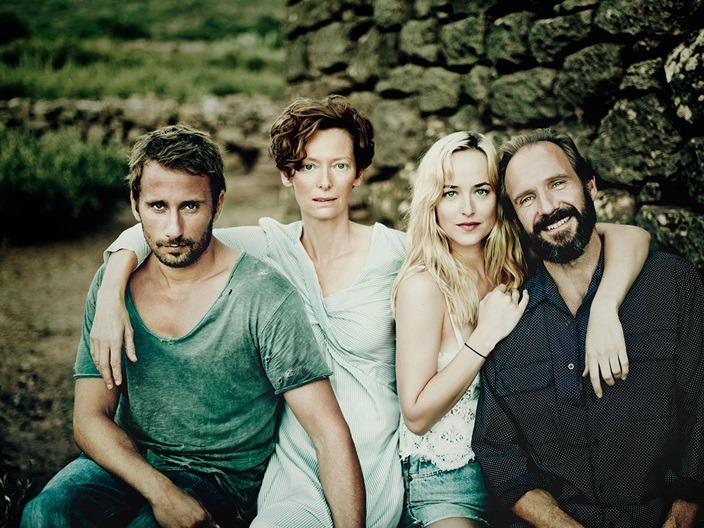 Following the sumptuous I Am Love, Tilda Swinton and director Luca Gadagnino have reunited for another tale of sun-drenched desire. In A Bigger Splash, a rock star (Swinton) and her filmmaker boyfriend (Matthias Schoenaerts) find their relationship rocked by the arrival of her ex (Ralph Fiennes) and his daughter (Dakota Johnson). Mind games, jealousy, and possibly danger ensue. Watch the A Bigger Splash trailer after the jump. 
The new A Bigger Splash trailer comes from U.K. distributor Studiocanal. A Bigger Splash is a remake of the 1969 French film La Piscine.
A Bigger Splash debuted at Venice this year to strong reviews. Fiennes in particular is getting a lot of praise, as in this glowing writeup from The Telegraph: "Fiennes is majestic as this rapturous alpha-prat, who swans around with his tasteful shirts unbuttoned to the navel, recounts past glories ad nauseum ... and elevates dad-dancing into a kind of performance art."
And fans of I Am Love should be very happy to hear Guadagnino hasn't let go of his sensual sensibility. Writes TheWrap, "[I]f you loved I Am Love for the food, there are some moments involving the creation of daiquiris and ricotta cheese (separately, thank goodness) that will capture your attention."
Studiocanal has A Bigger Splash out February 12, 2016 in the U.K. In the U.S., Fox Searchlight has the film set for release on May 13, 2016. Elena Bucci, Corrado Guzzanti, Aurore Clement, and Lily McMenamy also star.
In A BIGGER SPLASH, the lives of a high profile couple, a famous rock star and a filmmaker, (Matthias Schoenaerts and Tilda Swinton) vacationing and recovering on the idyllic sun-drenched and remote Italian island of Pantelleria are disrupted by the unexpected visit of an old friend and his daughter (Ralph Fiennes and Dakota Johnson) — creating a whirlwind of jealousy, passion and, ultimately, danger for everyone involved.