Drew Goddard Wanted To Make A New 'Daredevil' Movie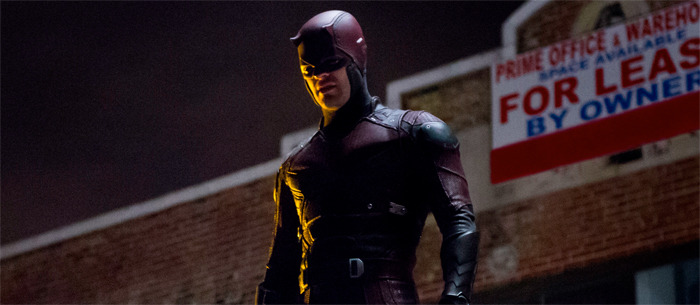 What could've been the new Daredevil movie turned into the critically acclaimed Daredevil television series. In a recent interview, writer-director Drew Goddard (The Cabin in the Woods), executive producer and creator of the Netflix show, revealed his initial plans for the superhero, which were aimed at the big screen. (Joss Whedon also pushed for the character to lead a movie, rather than a TV series.)
Read more about the decision to bring Daredevil to TV rather than theaters, after the jump.
Goddard, due to scheduling issues, had to step down as Daredevil's showrunner and director, and then Steven S. DeKnight (Spartacus) took over and helped to deliver the first satisfying depiction of the character. A few years ago, though, Goddard had a desire to make a new Daredevil movie, not a television show (source: IGN):
I went into Marvel and talked to them about making Daredevil as a movie a couple of years ago, long after the Affleck movie. But what we all sort of realised is that, this movie doesn't want to cost $200 million. The thing about Matt Murdock is, he's not saving the world. He's just keeping his corner clean. So it would feel wrong to have spaceships crashing in the middle of the city. But because of that, Marvel on the movie side is not in the business of making $25 million movies. They're going big, as they should.
A small-scale comic book movie would've been one of the few options to make a faithful adaptation of Daredevil. The character's journey doesn't exactly lend itself to a completely accessible, safe superhero movie, which is why Netflix was the right home for the project. Goddard explained:
It felt that we'd have more freedom to make it on the small screen and make it more adult. Look, if we took the Netflix [show] and put it in theatres, it's rated R. And they're not doing R-rated movies. And we also got to really explore the character. I feel like Netflix was the best possible home for that, otherwise you'd end up with a watered down version.
20th Century Fox almost resurrected the character, with names like Joe Carnahan (The Grey) and David Slade (Hard Candy) coming close to directing the reboot. Both Carnahan and Slade's sensibilities would've suited the character, but in all likelihood, they would've faced an uphill battle making a costly, truly dark superhero movie.
In the end, it all worked out for Goddard, Netflix, and Daredevil fans. A release date for season two, which stars Jon Bernthal as the Punisher, has yet to be announced, but here's hoping the show picks up where season one left off. The quality continued to rise with each episode, after a somewhat shaky start.
As for Goddard, he's still attached to the stalled Sinister Six, but, luckily for him and fans of good movies, his adaptation of The Martian opens in theaters this Friday.