Rumor Patrol: No, HBO Is Not Working On A 'Game Of Thrones' Movie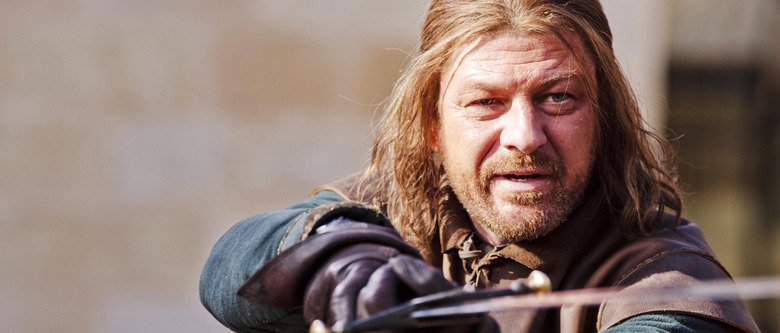 HBO's made it pretty clear they'd like as much Game of Thrones as possible, and the idea of expanding the franchise with a movie has been floated in the past. So when a tabloid quoted George R.R. Martin confirming a film was in the works, the report tore through the Internet like wildfire through Stannis Baratheon's fleet.
There's only one problem: Martin himself has now spoken up to unequivocally deny that report. Read all about the debunked Game of Thrones movie rumor after the jump.
This week, The Daily Star quoted Martin saying the following at an Emmys afterparty:
There will be a movie but I will not be involved. I have too much to do. That is something HBO and [Game of Thrones showrunners D.B. Weiss and David Benioff] are dealing with. I have two more books to finish and I still have so much to do. The pressure is on. I am such a slow writer and the fans get upset that I don't write faster.
In addition, they claimed an anonymous "production insider" had told them the film would be set in the past, possibly allowing dead characters to return.
None of this sounds very farfetched. Martin has talked up the possibility of a Game of Thrones movie before, as well as his hopes of making a Game of Thrones prequel. Plus, he's announced he's sitting out Season 6 to concentrate on his books. In short, the story had the ring of plausibility to it, which is probably why it caught on.
However, Martin has stated on his blog comments section that the report is not true. Here's the relevant exchange:
Fan: Is the interview of you, saying that there is a movie on work about ROBERT'S REBELLION false?
Martin: Yes, completely false. No one is working on any movie just now. And if there was a movie, it would not be about Robert's Rebellion.
Does this mean a Game of Thrones movie will never, ever happen? Not necessarily. HBO has said in the past that it doesn't want to end the series with a movie, but they could change their minds, and in any case a prequel would be a different beast. But for now, we should probably just focus on the coming sixth season and all the mysteries surrounding that, like "What the hell is going on with Jon Snow?"