LEGO Rival Playmobil Announces Title Of First Movie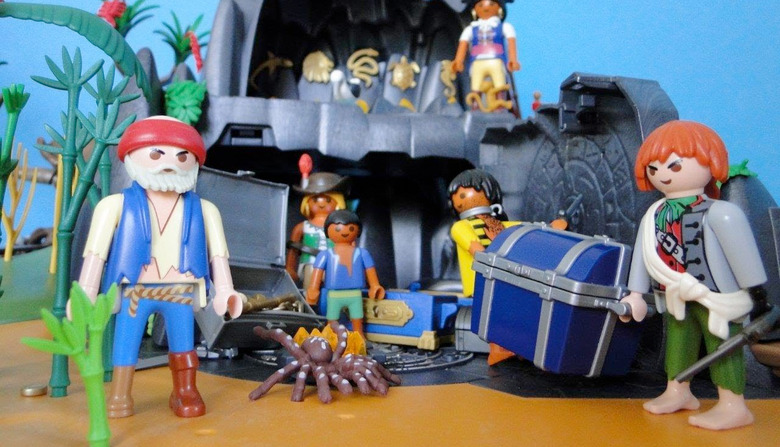 In case you didn't know, Danish toy company and LEGO rival Playmobil has been developing their own feature film in an effort to duplicate the success of Warner Bros. Animation's hit The LEGO Movie, and the movie has just been given a title.
Playmobil's first big screen venture will be called Playmobil: Robbers, Thieves & Rebels, and this is just the beginning of the toy company's plans to bring their figures and playsets to movie theaters.
For those who don't know, Playmobil is also a building toy, but works much differently than the building block sets of LEGO. In reality, Playmobil sets are more like figure and playset collections that just have some assembly required since they don't really allow much in the vein of freedom when constructing the sets. Though you can create a variety of different figures.
What helps the Playmobil movie is that the toy company also have a barrage of worlds they can borrow from when putting together a movie that allows for endless possibilities. Some of the worlds that Playmobil has created playsets for includes Dragon Land, Future Planet, Magic Castle, Top Agents, Treasure Hunters and Waterworld. Sadly the last one was not a tie-in with the Kevin Costner movie of the same name.
Cross Creek Pictures, the company behind the recent release of Everest and Black Mass have picked up distribution rights to Playmobil: Robbers, Thieves & Rebels, which was quite a sensation among international distributors at the Toronto International Film Festival. However, the global appeal isn't a surprise considering it's an international toy favorite in over 100 countries.
As for the animation side of things, ON Animation Studios, the company behind The Little Prince, will be taking care of that, with Bob Persichetti (head of story on Puss in Boots, Shrek 2 and The Little Prince) writing and directing. The plan is to release the film sometime late in 2018. And if all goes well, this will just be the first film in a hopeful trilogy of Playmobil movies
Will Playmobil be able to follow in the successful footsteps of The LEGO Movie, or is this just a desperate effort for the toy company to compete with their longtime rival? Honestly, while Playmobil may be a global brand with a lot of fans, I'm not sure they can do something as surprisingly fantastic as The LEGO Movie without feeling like a second-hand retread. But it would be great if the producers figured out a way to make this movie something worth watching.