'Batman V Superman: Dawn Of Justice' Gets PG-13 Rating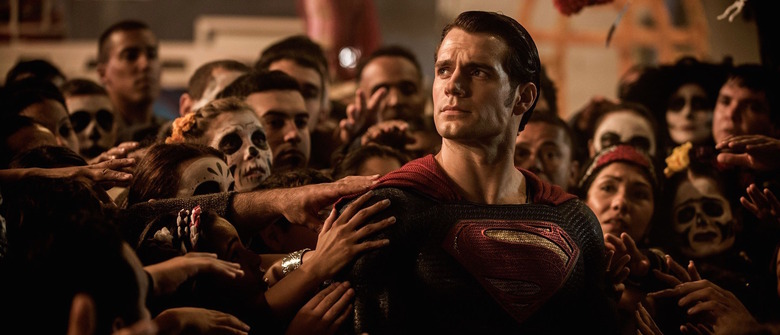 Pretty much every mainstream superhero movie that comes out these days is rated PG-13, so it should come as no surprise that Zack Snyder's Batman v Superman: Dawn of Justice has been rated PG-13 as well. The only part of that announcement that should raise an eyebrow is the MPAA's reasoning. Find out more about the Batman v Superman PG-13 rating after the jump.
According to Box Office Mojo, Batman v Superman: Dawn of Justice has been rated PG-13 for "intense sequences of violence and action throughout, and some sensuality." The first two items aren't really surprising — it's a superhero movie, of course there will be violence and action throughout — but the third is kind of curious.
It's not really clear what the MPAA considers "some sensuality." For comparison, though, The Dark Knight Rises received a very similar designation ("rated PG-13 for intense sequences of violence and action, some sensuality and language"), and that involved hot-and-heavy kissing followed by some implied boning.
The other question it raises is who's hooking up with whom in Batman v Superman. Superman and Lois Lane are an obvious guess, since they're already established as having a romantic relationship. Or do Batman and/or Wonder Woman get love interests in the film? For all we know, maybe Bats and Supes decide to settle their differences with a night of passion. Now that would be a plot twist.
Batman v Superman: Dawn of Justice arrives March 25, 2016. Henry Cavill, Ben Affleck, Gal Gadot, Amy Adams, and Jesse Eisenberg star.
Fearing the actions of a god-like Super Hero left unchecked, Gotham City's own formidable, forceful vigilante takes on Metropolis's most revered, modern-day savior, while the world wrestles with what sort of hero it really needs. And with Batman and Superman at war with one another, a new threat quickly arises, putting mankind in greater danger than it's ever known before.
Batman v Superman: Dawn of Justice stars Henry Cavill in the role of Clark Kent/Superman, and Ben Affleck as Bruce Wayne/Batman. The film also stars Gal Gadot as Diana Prince/Wonder Woman, with Amy Adams, Laurence Fishburne and Diane Lane returning from Man of Steel, Jesse Eisenberg as Lex Luthor, Jeremy Irons as Alfred, and Holly Hunter in a role newly created for the film. Jason Momoa will also be making an appearance as Aquaman.
Directed by Zack Snyder, written by Chris Terrio, from a screenplay by David S. Goyer, the film is produced by Charles Roven and Deborah Snyder with Benjamin Melniker, Michael E. Uslan, Wesley Coller, David S. Goyer and Geoff Johns serving as executive producers.