Harry Potter Fans Can Have Christmas Dinner At Hogwarts' Great Hall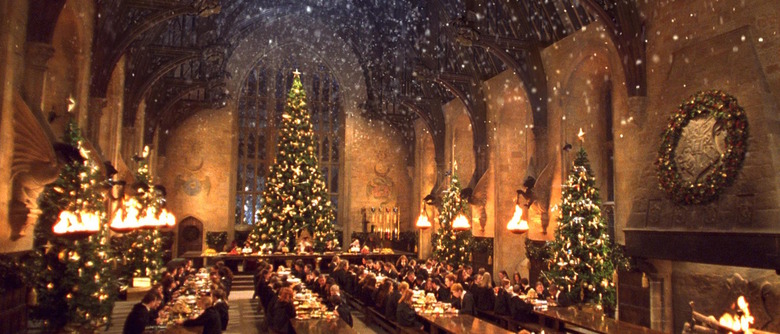 Grown-ups who never got their Hogwarts acceptance letter will nevertheless be able to engage in one of the school's time-honored traditions: a Christmas feast with all the trimmings. The Warner Bros. Studio Tour London is opening the doors of the Harry Potter Great Hall set for their first-ever holiday dinner event this year. Get details on the Hogwarts dinner after the jump. 
Warner Bros. Studio Tour London announced the one-of-a-kind Hogwarts dinner event on their website. For £230 ($349 USD), Harry Potter fans over 18 years of age will get to have a Christmas dinner in the Great Hall. The event runs from 6 PM to midnight on December 3, so even the most devoted Potterheads won't have to abandon their families for the actual holiday.
The Great Hall will be decorated with authentic props from Harry Potter and the Philosopher's Stone. Against this fantastical backdrop, guests will be greeted upon arrival with drinks and canapés. Once they get to their seats, they'll be served a two-course holiday dinner. And just to make things a bit more magical, each attendee will find a wand waiting for him or her at the table.
Following the tour, guests will be able to:
Explore the Studio Tour, admiring sets such as the Gryffindor common room and the Weasley's kitchen at The Burrrow, which will also be dressed as they were for winter scenes.
Enjoy a selection of three festive dessert bowls on Platform 9 ¾, alongside the original Hogwarts Express.
Drink Butterbeer in the backlot café and walk up the wizarding shopping street, Diagon Alley, before taking in the breathtaking Hogwarts castle model (covered in a layer of filmmaking snow especially for the festive season).
Finish the evening with music and dancing, with a bar provided for those who wish to purchase additional drinks.
And now for the bad news: Tickets for the Hogwarts dinner are already sold out. But given the overwhelming demand for the event, we'll just keep our fingers crossed that Warner Bros. will consider putting on more such events in the future.