Nat Wolff To Lead Adam Wingard's 'Death Note'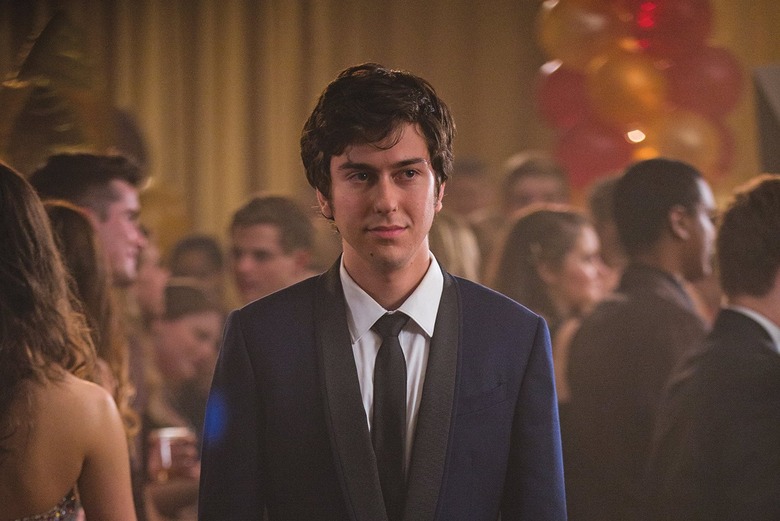 Death Note is targeting Nat Wolff. The Paper Towns star will lead Adam Wingard's adaptation of the popular Japanese manga series, about a notebook that brings death to anyone whose name is written in its pages. Which, okay, sounds kind of dumb when I put it that way. But trust me, it's cooler than I'm making it sound. Read about the Nat Wolff Death Note casting after the jump. Variety broke the Death Note casting news. Wolff is in final negotiations with Warner Bros. to play a student who comes across a supernatural notebook that allows him to kill anyone in the world simply by writing their name and picturing their face. As the body count rises, the police begin to notice, and a cat-and-mouse game ensues when one brilliant, reclusive detective starts digging into the case.
The original Death Note manga ran from 2003 through 2006 in Japan, and has since been adapted into an anime series and a trio of live-action Japanese-language films. The American adaptation has been in the works for a few years already. Shane Black was originally attached to direct. Wingard came on earlier this year after Black's departure. Jeremy Slater wrote the most recent draft of the script.
Wolff is just coming off of Nancy Meyers' The Intern, which is in theaters now, and starred earlier this year in the John Green adaptation Paper Towns. Last year, he had a supporting role in the other John Green adaptation, The Fault in Our Stars. He was one of several young actors vying for the Spider-Man lead at Sony and Marvel, but according to Variety was deemed too old for the part.
Death Note finally seems to be picking up speed after years in development, with shooting planned to begin next spring. Roy Lee, Dan Lin, Jason Hoffs, and Masi Oka are producing, and Doug Davison and Brian Witten are executive producing.