Orphan Black Season 4 Starts Shooting; Read The First Synopsis And See The First Set Photo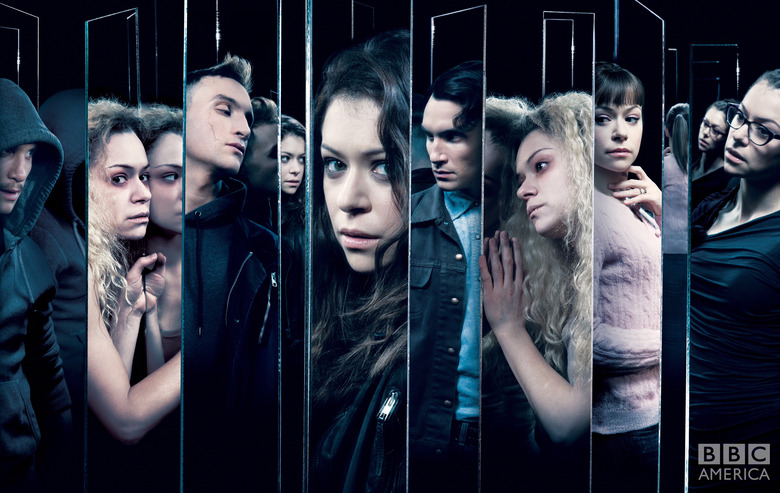 Tatiana Maslany is just coming off of her first Emmy nomination, but she's not one to rest on her laurels. She's already back at work on Orphan Black Season 4, which has just begun shooting today. See the first behind-the-scenes photo from the shoot, and read a detailed synopsis for the upcoming season, after the jump. Orphan Black co-creator John Fawcett shared a photo of himself with Maslany and Kristian Bruun (who plays the amazing Donny) on Twitter.
@OrphanBlack #CloneClub Yep we are rolling! pic.twitter.com/fX0Fhw9Fjj

— John Fawcett (@JohnFawcett75) September 28, 2015
In addition, BBC America revealed the Orphan Black Season 4 synopsis. Note that Canadian actor Joel Thomas Hynes has been added to the cast as an "edgy" hacker. (Is there any other kind on TV?) Also worth pointing out is that Michiel Huisman, who plays recurring character Cal, is not mentioned, though it's unclear if that means he's off the show.
Sarah, reluctantly return home from her Icelandic hideout to track down an elusive and mysterious ally tied to the clone who started it all — Beth Childs. Sarah will follow Beth's footsteps into a dangerous relationship with a potent new enemy, heading in a horrifying new direction. Under constant pressure to protect the sisterhood and keep everyone safe, Sarah's old habits begin to resurface. As the close-knit sisters are pulled in disparate directions, Sarah finds herself estranged from the loving relationships that changed her for the better.Returning this season is Jordan Gavaris as Sarah's battle-worn foster brother Felix; Maria Doyle Kennedy as Sarah and Felix's foster mother Mrs. S; Kristian Bruun as Donnie, Alison's partner-in-crime and husband; Kevin Hanchard as Art, Beth's detective partner who's torn between his job and his loyalty to the clones; Skyler Wexler as Sarah's long-suffering daughter Kira; Ari Millen as a mysterious new Castor clone, the likes of which we've never seen before; and Josh Vokey as Scott, Cosima's lab partner. Also returning this season is James Frain as Ferdinand, an intimidating "cleaner" for shadowy organization, Topside; Allison Steadman as Kendall Malone, "the original"; and Rosemary Dunsmore as Susan Duncan, Rachel's adoptive mother and one of the leading scientists of Project Leda. Joining the Orphan Black cast this season is Joel Thomas Hynes as Dizzy, an edgy, self-reliant hacker who doesn't conform to group mentality. Additional casting for the series will be announced in the coming weeks.
As a fan, I tend to think Orphan Black's best season was still its first, but the "horrifying new direction" promised by the Season 4 synopsis sounds intriguing. Anyway, who am I kidding? As long as they've got Maslany continuing to work her magic, I'll be tuning in.
Shooting on Orphan Black Season 4 will run through March 2016 in Toronto. The ten-episode season kicks off next spring on BBC America.