Star Wars Bits: Jakku Easter Eggs, Force Awakens Character Posters, Han Solo Casting, And Much More

In today's edition of Star Wars Bits, we'll take a look at the following:
5 easter eggs you may have missed in the Star Wars: the Force Awakens 360 degree Jakku video.
Anthony Ingruber was almost cast as Han Solo.
Find out when you can play the Star Wars Battlefront video game beta.
Is Disney considering Force Awakens meet and greets at Disneyland?
Sarah Michelle Gellar will finally reveal details about her role in Star Wars Rebels.
Promotional Star Wars: the Force Awakens character posters released reminiscent of the Olly Moss original trilogy prints.
See new images and learn more about the new Chewbacca comic book series.
A new rumor as to the identity of Max von Sydow's character in The Force Awakens.
See more cover art from the Star Wars: Shattered Empire comic books.
The above web comic strip was created by Matt Rhodes.
All this and more. Hit the jump to hyperspace to begin.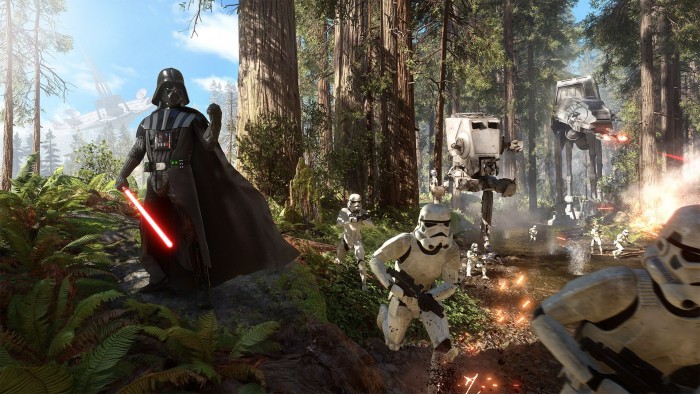 Lucasfilm and Electronic Arts have announced that the Beta for their Star Wars Battlefront video game will be available to the public on October 8th 2015 on PS4, Xbox One, and PC via Origin. The beta will feature three modes, Walker Assault on Hoth, Drop Zone on Sullust, and Survival Mission on Tatooine. Here are more details:
Walker Assault on Hoth: Fight in epic 40-player battles as a Rebel to destroy the Empire's onslaught of AT-ATs by calling in Y-wing bombers. Or, side with the Empire and protect your walkers while utilizing their mighty weaponry to crush the Rebel objective.
Drop Zone on Sullust: Escape pods are crashing down and you and your team must fight to control them. With its frantic 8v8 matches, Drop Zone is sure to put your combat and strategy skills to the test.
Survival Mission on Tatooine: Play alone offline or with a friend via co-op or split-screen as you battle to hold off waves of Imperial forces including AT-STs, TIE fighters, elite stormtroopers and more.
The Beta will be available from October 8th-12th 2015 with the full Star Wars Battlefront game hitting shelves on November 17th 2015.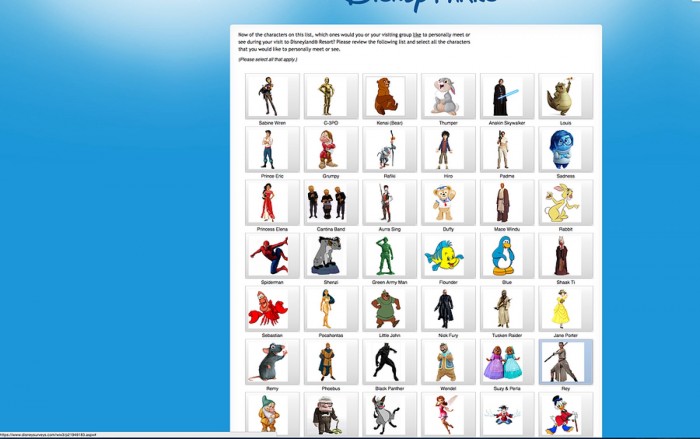 Universal Core has posted screenshots from what appears to be a Disneyland park guest survey. The interesting thing is that Disney seems to be polling park guests about possible new meet and greets coming to the park, including Spider-Man (Marvel) and Star Wars The Force Awakens.
Anthony Ingruber made a name for himself back in 2008 when he posted video of himself on YouTube (embedded above) doing an impression of Harrison Ford as Han Solo. Ingruber has revealed that he almost ended up playing Han Solo for the Star Wars Rebels animated series:
"I was actually approached to voice in Star Wars Rebels a few years ago, but there was some change in character/plot lines so sadly it fell through. I'm hoping I get the chance to portray Han in the upcoming spin off film and am working hard to try to make that happen."
The video even led to the actor being cast in the film Age Of Adaline where he portrayed a younger version of Harrison Ford's character. Ingruber's name is one that keeps coming up in fan suggestions as to who could play a young Han Solo in the second Star Wars spin-off film due in May 2018. StarWars7news asked the actor about the future roles he has lined up, which Anthony teased "Unfortunately, I can't share anything until it is announced! Hopefully soon though!"I wouldn't take this as any kind of suggestion that he is in the running for the Han Solo movie, but considering his Ford connection, its easy to see why he would be in consideration. But I'd bet they go with an actor that captures the character's essence rather than someone who can imitate the original performance.
A batch of new Star Wars: the Force Awakens character posters have hit the web. They look very much like the infamous Olly Moss original Star Wars trilogy prints that were released by Mondo in 2010. At very least the style seems to be inspired by the Moss set.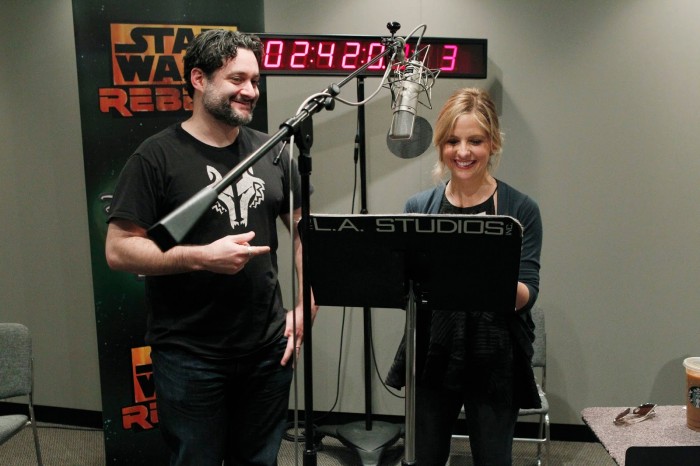 Sarah Michelle Gellar has announced she will be appearing during the Star Wars Rebels presentation at New York Comic con on October 8th 2015 at 1:30pm on the Empire Stage. When the actress was announced as having a role in season two of the Disney XD animated series, no details were revealed about her character. So I'm guessing we'll get a first look at her on October 8th.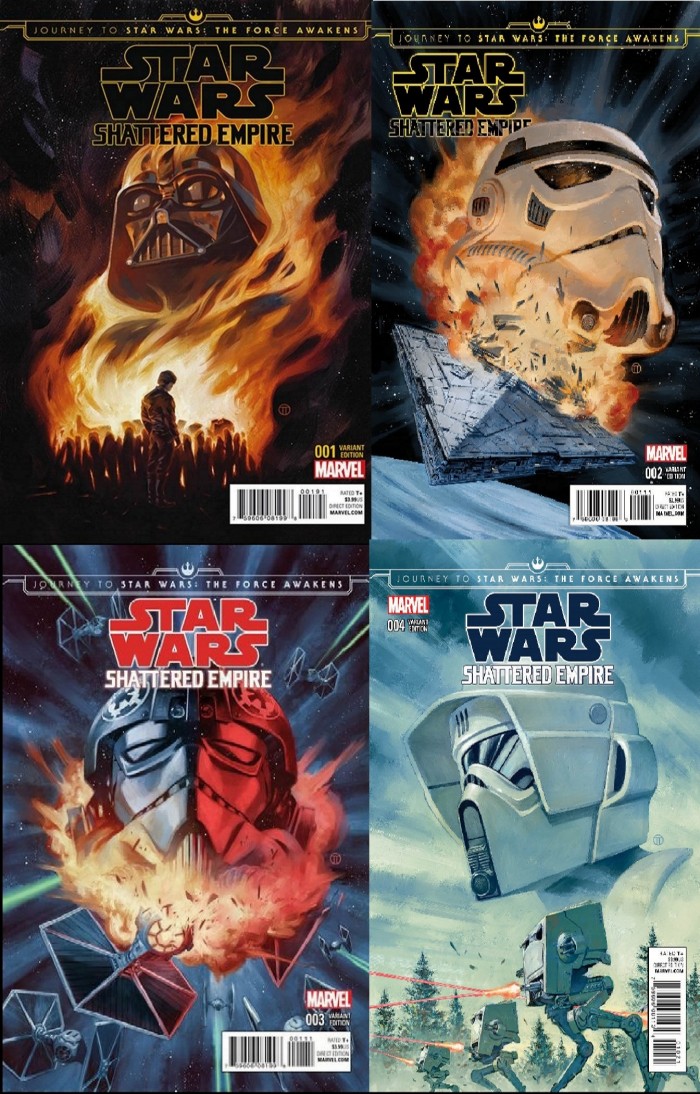 Take a look at all four of the Journey To Star Wars: The Force Awakens: Star Wars: Shattered Empire covers by Julian Totino Tedesco for Disposable Heroes.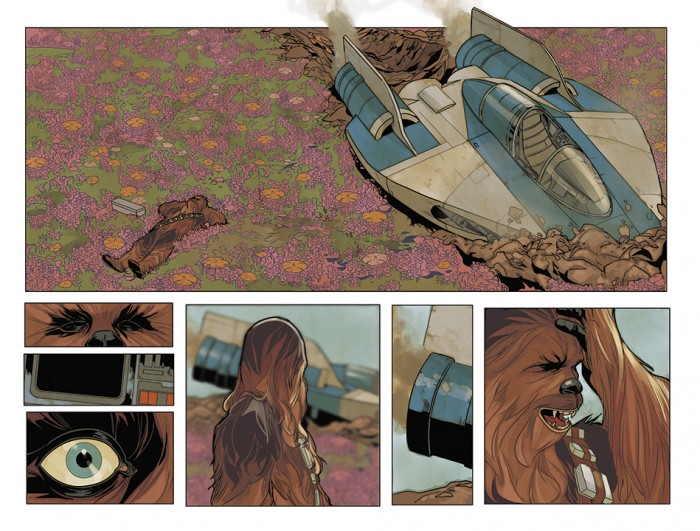 Artist Phil Noto explains some of the process behind the visuals in the new Marvel Star Wars comic book series Chewbacca, as well as how he creates Star Wars aliens in the new series:
I've tried to use as many existing Star Wars aliens as possible. The few that I've created have been inspired by the various creatures from the original trilogy and the prequels. Gerry has let me "cast" the aliens in terms of the art.
You can also see black and white sketchbook versions of two of the pages from the book at StarWars.com.
Last week Disney released a 360 degree video exploring the planet of Jakku from Star Wars: the Force Awakens. IGN takes a rewind and uncovers 5 easter eggs in the video you may have missed. For instance, did you see BB-8's cameo appearance in the video? Watch the video above.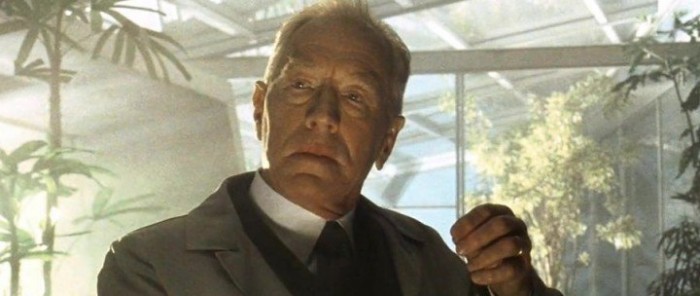 The identity of Max von Sydow's character in Star Wars: the Force Awakens has not yet been revealed, which had led many Star Wars fans to try to open this mystery box. We know that the actor is playing a character codenamed "The Vicar" on set, but now a new rumor claims to know the character's real name.  Read the following if you don't care about possible minor spoilers:
The rumor going around is that Max von Sydow plays a character named Lor San Tekka, a man in possession of information vital to the quest of finding the elusive Luke Skywalker. As an elder of a village on Jakku, Lor San Tekka is sought out by the heroic pilot Poe Dameron to find the missing Jedi's whereabouts.