'Crimson Peak' Early Buzz: Is This Del Toro's Horror Movie Masterpiece?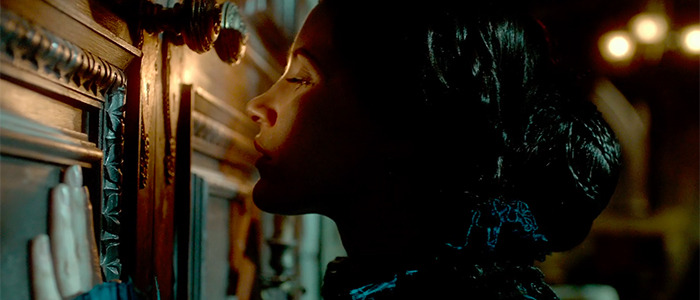 Writer-director Guillermo del Toro's Crimson Peak made a surprising debut this weekend at a festival well-suited for the film. The romantic horror picture, from the director of Pan's Labyrinth and Pacific Rim, probably wouldn't have fit in at Toronto or the ongoing NYFF. But at Austin's Fantastic Fest, del Toro's latest was perfect for the genre-oriented film festival. To no one's surprise, the first wave of Crimson Peak reviews are positive.
No official reviews have come out of Fantastic Fest just yet. The film, which stars Tom Hiddleston and Mia Wasikowska, is embargoed until two days before its release next month, which, based on the reactions out of Austin, is strange. As an original, somewhat costly R-rated horror movie, Crimson Peak has an uphill battle to fight at the box-office, so one would think Universal would want to generate as much early buzz as possible, and so far, the buzz is quite positive.
Months ago del Toro received tweets of approval from Stephen King and Joe Hill, calling it "gorgeous and just fucking terrifying," but now critics have weighed in on the film.
Still sort of annoyed that I can't review Crimson Peak until mid-October. Embargoes should not apply to film festivals.

Anyway it's great.

— Scott Weinberg (@scottEmovienerd) September 27, 2015
CRIMSON PEAK: Frighteningly beautiful – crazy creepy but not jump-scary. Some of Jessica Chastain's finest work. Gorgeous stuff, dug it lots

— Erik Davis (@ErikDavis) September 26, 2015
Crimson Peak is wonderfully designed and Jessica Chastain maniacally owns every scene she's in. Although, could use more scares & melodrama.

— Jordan Raup (@jpraup) September 26, 2015
If you love the films of @RealGDT you will love Crimson Peak. It's gorgeous, gross but also romantic. There's so much atmosphere it nuts.

— Germain Lussier (@GermainLussier) September 26, 2015
I wish Universal luck with CRIMSON PEAK. I liked it a lot, but there's no hook, in the best possible way, for "selling" its complexities.

— Todd Gilchrist (@mtgilchrist) September 26, 2015
Loved CRIMSON PEAK. Elegant, beautiful, and scary. #FantasticFest

— AlanWCerny (@AlanWCerny) September 26, 2015
CRIMSON PEAK: A classical ghost story punctuated by gnarly violence and images of terrible beauty. This is movie is sumthin' else.

— Jacob Hall (@JacobSHall) September 26, 2015
Period Guillermo del Toro is best, as Crimson Peak attests. Beautiful, creepy, tragic. #FantasticFest @cclegit

— George A. Hickman (@popmortem) September 26, 2015
Crimson Peak is a visual, gothic masterpiece full of amazing imagery. Brutal but basic. Jessica Chastain is awesome. Period. #FantasticFest

— Jeremy Kirk (@JeremyKKirk) September 26, 2015
Fingers crossed general audiences have a similar reaction to next month. These Crimson Peak reviews are correct. It is a gorgeous movie, representing the best of del Toro's work. Del Toro has called Crimson Peak one of three films of he's most proud of, with the other two being Pan's Labyrinth and The Devil's Backbone. Crimson Peak definitely feels as personal as those two movies. Once again, del Toro expresses nothing but love for his deeply human but damaged monsters. Is Crimson Peak a gothic horror masterpiece? No, but it's a very good gothic horror movie.
Also, keep in mind, the film relies more on its romance than scares. Crimson Peak is a romance first, horror movie second — something audiences might not be expecting next month.
Del Toro hasn't always had an easy time getting projects off the ground. We don't see many horror movies like Crimson Peak made at this scale for a reason. This is a risky project, but no more risky than del Toro's stalled adaptation of At The Mountains of Madness. Hopefully Crimson Peak is a hit at the box-office, so del Toro can finally get the clout he deserves. The Hellboy director's work hasn't always done gangbusters at the box-office, but he almost always delivers the goods.
Crimson Peak opens in theaters October 16th.