'Daft Punk Unchained' Trailer: A Documentary About The Electronic Music Duo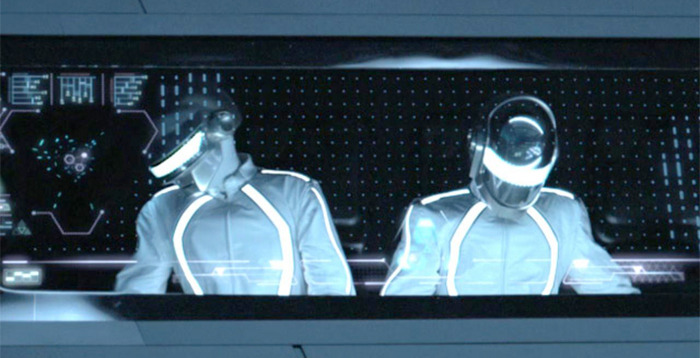 Few musicians are as equally mysterious and revered as Daft Punk, the electronic music duo which consists of French musicians Guy-Manuel de Homem-Christo and Thomas Bangalter, both always concealed by sleek suits and helmets at every public performance.
And now a feature length film is on the way called Daft Punk Unchained, touted as the first ever documentary about the electro duo responsible for such feats of musical genius as the TRON Legacy soundtrack, the album Human After All, and the more recent radio hit "Get Lucky," featuring super producer and singer Pharrell Williams.
Watch the Daft Punk documentary trailer below!
Here's the trailer which recently surfaced on BBC Worldwide (via FirstShowing.net):
It's just a tease of the documentary, and sadly it doesn't really do much to stir up interest. It's a collection of clips from TV appearances and reiterating what fans already know about the duo.
The only intriguing part is the end of the teaser when it's hinted that this documentary just might end up showing Daft Punk without their gear on. Though that could just be a way of generating hype and teasing how this documentary will show Daft Punk in a light we've never seen them in before
Daft Punk Unchained has actually already premiered on the Canal+ TV station in France (which also leads us to believe that the ending shot is just a clever gimmick, because otherwise that kind of reveal would have been all over the web), but it's only been made available in French so far. But thankfully, this trailer teases some kind of worldwide release before the year is out. Unfortunately, there isn't a specific release date available yet, so we'll just have to be patient.
Daft Punk Unchained, directed by Hervé Martin Delpierre, is the first independent film which explores an exceptional pop culture phenomenon of the last twenty years: Daft Punk. Between fiction and reality, magic and secrets, theatricality and humility, Thomas Bangalter and Guy-Manuel de Homem-Christo have created a unique artistic universe. Throughout their career they have remained determined to control every link in the chain of their creative work.
The film highlights key moments of their story, from their first school band in Paris to their historic concert at Coachella festival in 2006 and their spectacular triumph at the 2014 Grammy Awards for the album " Random Access Memories ". In an era of globalisation and the expansion of social media, they have refused to show their own faces and they orchestrate every detail of their appearances as robots.
The documentary includes archives of radio interviews with Daft Punk, rare footage and exclusive interviews with their friends and close collaborators from Pharrell Williams to Nile Rodgers, Giorgio Moroder, Kanye West, Michel Gondry, Paul Williams, Peter Lindbergh, Leiji Matsumoto and Pete Tong.
Stay tuned for any information on a release date before the end of 2015.