Hugh Jackman Won't Shoot 'Wolverine 3' Until The Script Is Perfect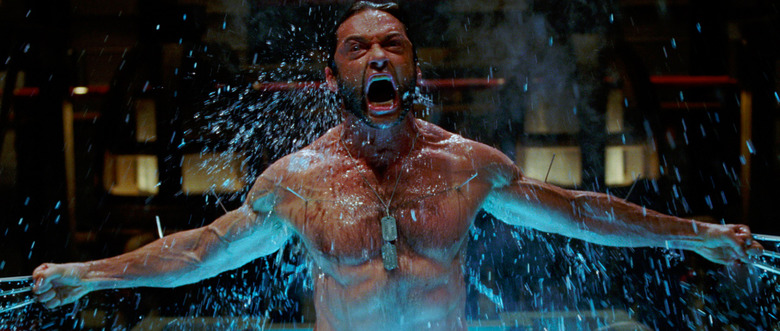 So far the X-Men spin-off movies that focus on Wolverine have been nowhere near as good as the regular X-Men franchise. Without much dissension, X-Men Origins: Wolverine is regarded abysmal. And while The Wolverine was a huge step up, it still felt like it was missing something.
But since Wolverine 3 is going to be the last time Hugh Jackman puts on the claws, he wants to make sure it's the movie fans have been waiting for. In a recent interview, Jackman talked about Wolverine 3 development, opening up a bit about how Professor X (Patrick Stewart) factors in, and also reaffirming his dedication to a quality story, so much that he's not yet guaranteeing that the movie will happen just yet.
Speaking to Collider, Jackman provided an update on the progress of Wolverine:
"I'll be really honest with you, the actual script in its full form we're up to about Page 60. Obviously there's a treatment, so it's not fully done yet, we're not fully there. Patrick [Stewart] does figure in it that's for sure. I think it's a really important relationship but I want to see signs of that quasi-father/son sort of relationship that has not been seen before, and sides of particularly Professor X that have not been seen before. So we have some really, really cool ideas."
Professor X has always been a father figure to all the mutants who ended up as his School for the Gifted. However, we've mostly seen him be a mentor and a guide for Wolverine as opposed to a father, so this would certainly be new territory for the mutants. It sounds like that dynamic may have been hard to crack, and Jackman has been pushing to make sure it's as close to perfect as it can be:
"I feel that I'm pushing harder than I've ever pushed before. I suppose the stakes just go up when you announce before your last season that this is your last season, you don't want one game to not be your best... People ask me, 'How are you gonna be able to let it go?' To me the only way you can let it go is if you left blood every day on the studio floor."
In fact, this is so important that Jackman has been rather careful when he's talking about the sequel, because he's not signing on to make this happen until the script is up to his high standards:
"I'm sounding a little cagey because this is the last time I'm playing him, and I have just made the commitment to myself, really, and told everyone that until that script is perfect, until it is that perfect way to sign out, I'm not gonna start shooting. So that's why I don't wanna say 'Yes' for sure, because until Page 115, 120, whatever it is..."
But don't worry fans, because Jackman says the treatment informing the script is about 90% where he wants it to be, and the actually screenplay just needs to be fleshed out. And while he's being cautious about Wolverine 3, the plan is still to shoot next year:
"The ultimate plan is let's start shooting next year... I'm starting the training, I'm starting the eating and mentally really preparing for it. It's not just me, the studio as well—I'm trying to do something with this that's a little special, a little different. I've got a very, very strong idea of what that is. I really have known for quite a long time how I want to finish this sort of odyssey that I've been on, this amazing journey. And I won't let it fall anywhere in between. I won't fall short of it."
The film would need to start shooting sooner than later in 2016 in order to meet the previously set March 3rd, 2017 release date. Though I wouldn't be surprised if it got pushed back to the summer of 2017 if necessary. Depending on how long it takes to get the script right, we might not see the sequel arrive until 2018.
James Mangold is still supposed to direct Wolverine 3, returning after doing a decent job on The Wolverine, but it sounds like there's plenty of work to be done before he actually gets behind the camera. Stay tuned for all the latest.