It's Official: Netflix Orders 12 New Episodes Of 'Black Mirror'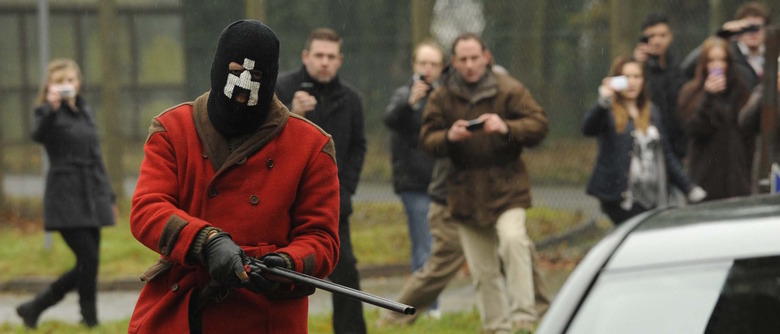 Prepare for more terrifying visions of the future. Netflix has officially announced it's picking up the buzzy sci-fi anthology series Black Mirror for a third season, to consist of 12 episodes. Keep in mind that this show has only put out six episodes (across two seasons) and a Christmas special to date. Netflix is nearly tripling the episode count in one fell swoop. Get details on the Black Mirror Netflix pickup after the jump. 
For the uninitiated, Black Mirror is essentially a tech-oriented version of The Twilight Zone. Each hourlong episode of the sci-fi anthology tells a complete story with a whole new cast. Notable Black Mirror actors have included Hayley Atwell, Domhnall Gleeson, Jessica Brown-Findlay, Toby Kebbell, Rory Kinnear, and Jon Hamm. Black Mirror first debuted in 2011 in the U.K., but it wasn't until 2014 that it became available to a wider U.S. audience via Netflix.
The series is notable for its uncanny understanding of the way we use technology. Some of its premises are a bit more far-fetched — "Fifteen Million Merits" takes place in a world that is entirely powered by grey-clad nobodies on exercise bikes – but others feel chillingly realistic. In "The Entire History of You," for example, a chip allows people to record everything they see and hear, with unhappy consequences for one jealous husband.
The Black Mirror Netflix news comes right after one of Black Mirror's most shocking episodes proved all too prescient. Honestly, Netflix couldn't have timed "PigGate" if it were part of a concerted marketing push. But it really is just happy (if stomach-churning) coincidence — Netflix has been in discussions to pick up Black Mirror for several weeks now.
Said creator Charlie Brooker in a statement:
It's all very exciting — a whole new bunch of 'Black Mirror' episodes on the most fitting platform imaginable. Netflix connects us with a global audience so that we can create bigger, stranger, more international and diverse stories than before, whilst maintaining that 'Black Mirror' feel. I just hope none of these new story ideas come true.
Netflix's VP of original content Cindy Holland said some nice things about Brooker in return: "Charlie has created a one-of-a-kind series with an uncanny voice and prescient, darkly comedic vision."
Brooker and Annabel Jones will serve as executive producers and showrunners for the new episodes, as they did for all of the old ones. Brooker has already begun writing the scripts and production is scheduled to begin later this year in the U.K. No premiere date has been announced.
Created and written by Brooker, 'Black Mirror' taps into our collective unease with the modern world and each stand-alone episode is a sharp, suspenseful tale exploring themes of contemporary techno-paranoia. Without questioning it, technology has transformed all aspects of our lives; in every home; on every desk; in every palm – a plasma screen; a monitor; a Smartphone – a Black Mirror reflecting our 21st Century existence back at us. The series has been recognized with an international Emmy Award, a Peabody Award, a Rose D'Or and been nominated for a Bafta award.
See the Black Mirror Netflix announcement below: