J.K. Rowling Play 'Harry Potter And The Cursed Child' To Be Released In Two Parts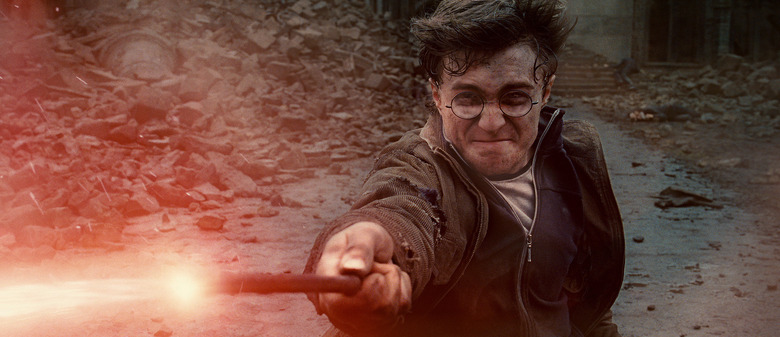 Harry Potter and the Deathly Hallows kicked off a whole wave of two-part YA series finales, and now that trend has come all the way back around to the franchise that started it. J.K. Rowling has announced that her upcoming play Harry Potter and the Cursed Child will be split into two parts, because the story is just too "epic" to fit into one. Read the Cursed Child two parts announcement after the jump. 
Rowling announced the Cursed Child two parts news on Twitter.
*Clears throat loudly and bangs teaspoon on mug of tea* I have #CursedChild news!

— J.K. Rowling (@jk_rowling) September 24, 2015
Due to the epic nature of the story we've been working on, Harry Potter & the #CursedChild will be in two parts! @HPPlayLDN

— J.K. Rowling (@jk_rowling) September 24, 2015
Sonia Friedman and Colin Callender are producing Harry Potter and the Cursed Child, which has a story by Rowling, John Tiffany, and Jack Thorne, and a script by Thorne. Tiffany is directing. While not a musical, Cursed Child will have music by Imogen Heap. The narrative is believed to take place during Harry's early years, although Rowling has stressed that it's not a prequel. Beyond that, plot details on the new play are being tightly protected by a Fidelius Charm.
In an announcement posted on Rowling's Pottermore website, Tiffany explained the decision to split Cursed Child in two. "It shares a scale and ambition with all the Harry Potter stories so in order to do this justice we have decided to present the play in two parts," he said. Friedman echoed his comments in a chat with The Daily Mail, saying the story was "too long to be told in a traditional length and it became inevitable that it had to be in two parts."
Unlike the Deathly Hallows movies, which kept audiences waiting a year for the second half of the story, fans will be able to see both parts of Cursed Child relatively quickly. "It can be seen on consecutive days in the same week or in some instances on the same day," said Friedman. More specifically, The Daily Mail has heard that "parts one and two will be performed on consecutive weekdays, while at weekends, audiences will be able to watch both parts in one day."
Details on Cursed Child tickets are expected to arrive next month. Both parts of Harry Potter and the Cursed Child will premiere at the Palace Theatre in London's West End next summer.