First Photo: Woody Harrelson As 'LBJ' In Rob Reiner's Biopic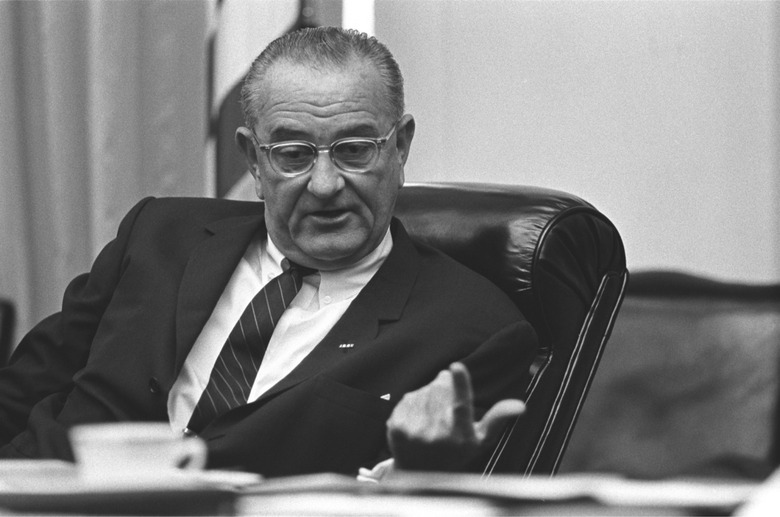 The first photo has been released of Woody Harrelson (Zombieland, Hunger Games, The People vs. Larry Flynt) as United States Vice President Lyndon Baines Johnson in Rob Reiner's dramatic biopic which just began shooting this week. Lets be clear, the photo above is of the real LBJ. After the jump you will see the Woody Harrelson LBJ photo and learn more about the film. You might be surprised at the transformation Harrelson went through for this role.
Woody Harrelson LBJ Photo
Entertainment Weekly premiered the first photo of Woody Harrelson in Rob Reiner's LBJ: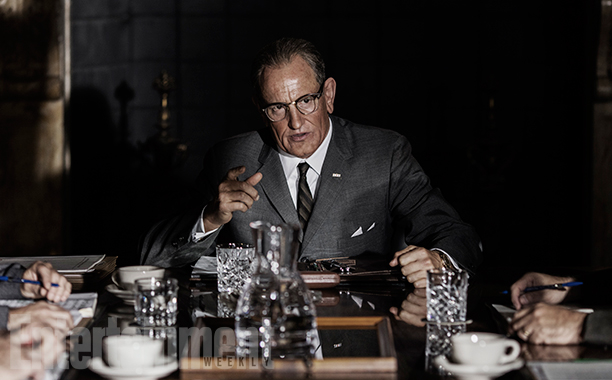 That doesn't even look like Woody Harrelson. Compare the above photo with the photo of LBJ in the header of this post.  You can now count me as interested in this film. Rob Reiner hasn't had a hit in quite a few years. For those of you who might not recall, Reiner directed This Is Spinal Tap, Stand By Me, The Princess Bride, When Harry Met Sally, Misery, A Few Good Men and The American President. Talk about an amazing run of a decade of films. I really enjoyed the small coming of age film Flipped he did in 2010, but Reiner hasn't had a sizable hit in twenty years.
Rob Reiner's dramatic biopic centers on "the political upheaval that Vice President Lyndon Baines Johnson confronted when he was thrust into the presidency at the hands of an assassin's bullet in November, 1963." Two-time Academy Award nominee Harrelson will play "the role of America's 36th President, who encountered dramatic political battles on both sides of the aisle in his ascension to the nation's highest office while attempting to heal a nation and secure his presidency by passing John F. Kennedy's historic Civil Rights bill not long after his predecessor's assassination." The film began shooting earlier this week on location in New Orleans.
Here is more information on the film's supporting cast from the production press release:
Joining Harrelson in the film is fellow Oscar nominee (and Emmy winner) Richard Jenkins ("The Visitor," "North Country," HBO's "Six Feet Under" and "Olive Kitteridge"), who reunites with director Reiner in the role of Senator Richard Russell, the powerful Georgia politician who took Johnson under his wing when he was elected to the Senate, only to face off against the new President on the issue of civil rights; and Bill Pullman ("Independence Day," "American Ultra," "Sleepless in Seattle") as Texas Senator Ralph Yarborough, who served alongside fellow Texan Johnson in the U.S. Senate during the 1950s and was the only southern senator to vote for all civil rights bills from 1957 to 1970 (including the Civil Rights Act of 1964 and the Voting Rights Act of 1965).
The film co-stars Jeffrey Donovan ("Sicario," "Burn Notice") as President John F. Kennedy, whose 1963 assassination catapulted LBJ into the nation's highest office while marking the beginning of a turbulent decade in American history; Kim Allen (TV's "Army Wives" and "The Carrie Diaries") as Jacqueline Kennedy, who sat next to her husband when he was killed in the Dallas motorcade and refused to remove her blood-stained pink Chanel suit while standing alongside Johnson when he took the Presidential oath of office onboard Air Force One hours after JFK's assassination; Michael Stahl-David ("Cloverfield," "In Your Eyes") as Bobby Kennedy, the country's Attorney General during his older brother's administration who constantly locked horns in a combative relationship with Vice President Johnson; and Golden Globe and Independent Spirit Award winner Jennifer Jason Leigh ("Single White Female," "Georgia," Quentin Tarantino's upcoming "The Hateful Eight") as Lady Bird Johnson.
"LBJ" also features Brent Bailey (TV's "Emma Approved" and "My Synthesized Life") as renowned Kennedy speechwriter Ted Sorenson, whose loyalty to the slain President makes it difficult to accept LBJ's invitation to stay on in his administration; John Burke ("The Amazing Spider-Man," "R.I.P.D.") as Texas Governor John Connally, one of LBJ's closest confidantes who was wounded alongside Kennedy in the Dallas motorcade; Brian Stepanek ("Transformers," "The Island") as Rufus Youngblood, who leads the Secret Service protective detail for LBJ; Rich Sommer ("Mad Men," "Wet Hot American Summer: First Day of Camp") as Kennedy's savvy Press Secretary Pierre Salinger; Tim Ransom ("Win Win," ABC's "Scandal") as one of JFK's "Irish Mafia" inner circle, Larry O'Brien; and Judd Lormand ("The Hunger Games," "!Pitch Perfect") as Secretary of Defense Robert McNamara.
"LBJ" was written by Joey Hartstone, whose 2014 script (which covers the years 1959-64, including LBJ's Senatorial and VP reigns) was cited as one of the year's best for the prestigious Hollywood Black List honor. The screenplay, Hartstone relates, "is constructed around the moment that this incredibly diminished vice president is suddenly thrust into the most powerful office in the world. I have always been a huge fan of the Kennedy brothers and, like a lot of people, had overlooked the incredible story of Johnson that seems to get eclipsed by the endlessly captivating story of JFK. Lyndon Johnson is the most complicated and fascinating character I've ever had the pleasure of writing. It will be incredible to see Woody transform into J!ohnson, and to watch Rob tell this story."
"During the sixties, I was a hippy and Lyndon Johnson was my president...and the target of most of my generation's anti-Vietnam War anger," Reiner chimes in about his memories of this stormy era. "But, as time has passed and my understanding of political realities has grown, I've come to see LBJ in a very different light. He was a complex man — a combination of brilliant political instinct, raw strength, ambition, and deep insecurities. The strength and power of persuasion that he showed to his colleagues existed alongside of a soft, almost childlike quality that perhaps only Lady Bird got to see. His life's path was nothing short of Shakespearean. From the poor hill country of West Texas to the corridors of power in Washington, he used his brilliant political acumen to pass the most groundbreaking civil rights legislation of the twentieth century. And, had it not been for the Vietnam War, I believe he would h!ave gone down as one of America's greatest presidents."
"LBJ" is being produced by Acacia Entertainment, Savvy Media Holdings, Castle Rock Entertainment and Star Thrower Entertainment. In addition to directing, Reiner ("A Few Good Men," "Stand By Me," "When Harry Met Sally") also produces with Matthew George, Liz Glotzer, Michael R. Williams, Tim White and Trevor White. Executive producers include Martin Shafer, Elizabeth A. Bell, Danny Roth, Damiano Tucci, Michael Tadross Jr., Chris Conover and Julie May.
Reiner reunites with a trio of technical craftsmen on the project, all three of whom worked with the director on his most recent feature, "Being Charlie" — director of photography Barry Markowitz ("Sling Blade," "Crazy Heart," "The Apostle"), production designer Christopher DeMuri (art director on "127 Hours" and "Need for Speed") and film editor Bob Joyce ("Murder on the 13th Floor," "The Gold and the Beautiful"). Also joining Reiner on the film are Emmy- winning costume designer Dan Moore (TV's "61*" and "The Magnificent Seven") and veteran makeup artist Arjen Tuiten ("Pan's Labyrinth," "Maleficent," "Unbroken"), who will create the special prosthetic applications that will morph Harrelson into LBJ, the powerful Senate Majority Leader of the mid-1950s and 37th U.S. Vice President who became the country's unlikely leader a!fter JFK's assassination.
"LBJ" will film primarily on location in New Orleans, with various sites around the Crescent City doubling for key story locales such as Dallas' Love Field; the U.S. Capitol; Arlington National Cemetery; L.A.'s Biltmore Hotel (for scenes portraying the 1960 Democratic National Convention); and Dallas' Parkland Hospital, where JFK succumbed to his injuries. The production will also move to Dallas for key scenes in Dealey Plaza, the infamous site where JFK's fatal shooting occurred.
Sales for the independent production (planned for an April, 2016, release) are being handled by Voltage Pictures (international) and Creative Artists Agency (North America), which reps Reiner and Harrelson.