'Truth' Trailer: Robert Redford And Cate Blanchett Recreate "Rathergate"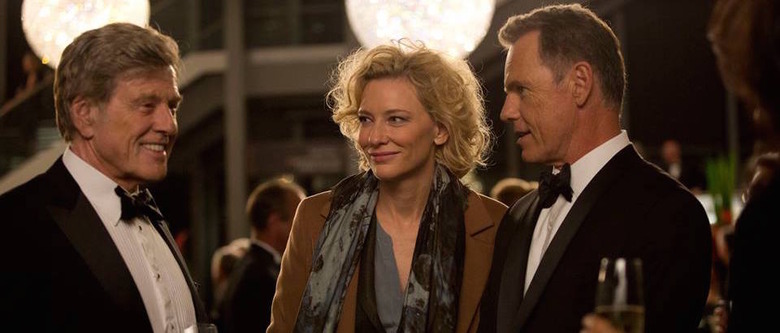 Prepare to relive very recent history with Truth, James Vanderbilt's drama about the "Rathergate" scandal. Robert Redford plays CBS News anchor Dan Rather, and Cate Blanchett his producer Mary Mapes. Toper Grace, Elisabeth Moss, Dennis Quaid, Bruce Greenwood, and Stacy Keach also star. Watch the Truth trailer after the jump.
Yahoo debuted the first Truth trailer.
Known for writing Zodiac, The Amazing Spider-Man, and White House Down among many other screenplays, Vanderbilt takes the director's chair for the first time with Truth. Vanderbilt wrote the script himself based on Mapes' 2006 memoir Truth and Duty: The Press, the President, and the Privilege of Power.
The film made its world premiere at the Toronto Film Festival just a couple of weeks ago, to pretty good reviews. Variety, for example, wrote, "The keenly focused intelligence and low-boil intensity that James Vanderbilt demonstrated in his screenplay for Zodiac are on impressive display in Truth."
And even if "you can't avoid the fact Robert Redford is just doing Robert Redford as Dan Rather," as HitFix put it, Blanchett's performance as Mapes is getting a lot of praise. "Just two years after winning an Oscar for Woody Allen's Blue Jasmine, Blanchett gives an even more memorable performance as Mapes," gushed Coming Soon.
Truth gets a limited release from Sony Pictures Classics starting October 16, 2015.
TRUTH is based on the book "Truth and Duty" by Mary Mapes. In the vein of "All The President's Men" and "The Insider," it is the incredible true story of Mary Mapes (played by Cate Blanchet), an award-winning CBS News Journalist and Dan Rather's producer, who broke the Abu-Ghraib prison abuse story, among others. The film chronicles the story Mapes and Rather uncovered that a sitting US president may have been AWOL from the United States National Guard for over a year during the Vietnam War. When the story blew up in their face, the ensuing scandal ruined Dan Rather's career, nearly changed a US Presidential election, and almost took down all of CBS News in the process.