Star Wars Bits: Canon Chronology, Battlefront's Playable Heroes And Villains, Hayden Christensen Rumors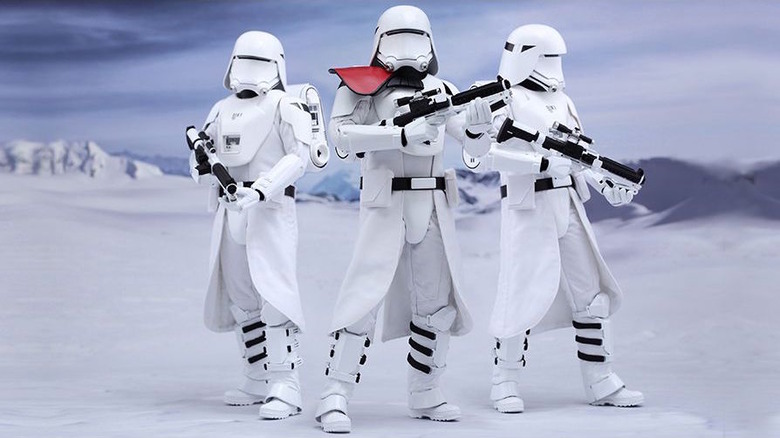 Who's in the mood to speculate about a totally bonkers casting rumor? After the jump:
Telefonica announces a Star Wars pop-up channel in Spain
What was the most best selling Force Friday toy?
Hot Toys unveils a 1/6 scale First Order Snowtrooper figure
One fan argues the Star Wars spinoffs avoid origin stories
A handy chart outlines the Star Wars canon chronology
Luke and Vader will be playable in Battlefront; get the details
A nutty rumor says Hayden Christensen is in Episode VIII
... and another rumor claims Darth Vader will be in Rogue One
***
Spanish Star Wars fans will (temporarily) get their own dedicated channel. The Walt Disney Company Iberia and Telefonica are teaming to create a Movistar Plus Star Wars channel. For two weekends in late September, it will replace the Canal Plus DCine service and show the first six movies in the franchise.
The Star Wars channel will then return in the 15-day run-up to The Force Awakens' December 18 premiere, as a pop-up channel on Movistar Plus' pay TV platform. Programming will include the existing Star Wars films, plus documentaries, extras, and Movistar's own productions. Get more details at Variety.
***
The question isn't whether Force Friday made a whole lot of money for Star Wars, but exactly how much money Force Friday made for Star Wars. According to Juli Lennett, senior vice president of the U.S. toys division at The NPD Group (via Toyworld), "Force Friday provided a phenomenal lift for Star Wars, growing sales by six times its recent average weekly sales. About $1 of every $11 for the week was spent on a Star Wars toy."
The market research company found the top seller for the week of Force Friday was Hasbro's Star Wars The Black Series 6" assortment. And the dough will keep rolling in. In all, Lennet said, "Year to date, the total U.S toy industry has experienced 7.3% growth, and this year's Star Wars movie-related toys have the potential to be a significant contributor to industry sales through the holiday season."
***
Speaking of Star Wars toys, Hot Toys has just unveiled two more figures as part of its Episode VII 1/6 scale line. Behold, a pair of First Order Snowtroopers — an officer and his underling:
The latest generation of Snowtrooper is equipped with completely redesigned advanced insulated armor and helmets that can reduce the glare of icy terrain when carrying out the First Order's missions in extreme climate.
The highly-accurate collectible figures are specially crafted based on the image of First Order Snowtrooper in Star Wars: The Force Awakens. Each Snowtrooper features a brand new designed Snowtrooper armor, helmet, and backpack. The standard First Order Snowtrooper will be equipped with a blaster rifle with extended stock while the First Order Snowtrooper Officer is armed with a blaster rifle with extended stock, a pair of articulated binoculars, and a red color pauldron that indicates the rank of officer. Two additional blaster rifles are included exclusively in this collectible set!
Hit Hot Toys for more info (via Star Wars Underworld).
***
We already know what Disney's first Star Wars spinoff, Rogue One, will be about, but we know less about Phil Lord and Chris Miller's planned Han Solo movie, and even less about the rumored Boba Fett movie. While we wonder, First Showing's Dan Marcus has just one request for the studio: No more origins stories.
Quite frankly, Boba Fett is going to be a more interesting character the less we know about him. Audiences don't care about what makes him tick – they care more about what he does when he's ticked off. Bryan Fuller's "Hannibal" TV show is a great example of redefining a classic character but not ruining him by exploring the origins of how he came to be. When Hannibal begins, he is fully formed. The interesting aspect of the show is how he cunningly navigates Will Graham and those around him. In a similar sense, it would be interesting to see Fett react to a galaxy that has since forgotten about him, where he must prove himself worthy again, not a story where he doesn't really become Boba Fett until the end. That's what people come to see anyway – their favorite character, not a story of how they became their favorite character.
***
On the next page, a helpful Star Wars canon timeline, details on Luke and Vader as playable Battlefront characters, and crazy Darth Vader rumors for Episode VIII and Rogue One.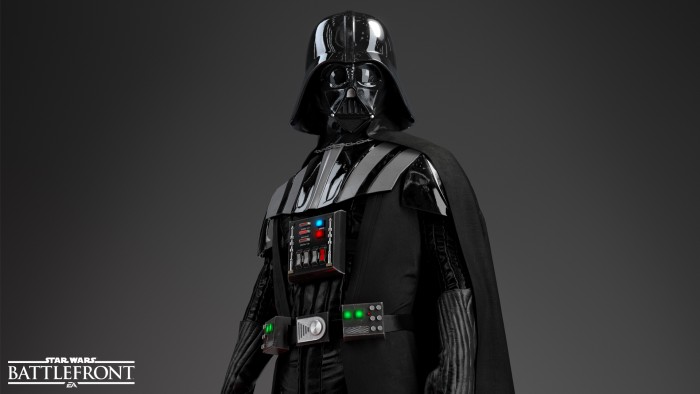 The more canon Star Wars material comes out of Disney and Lucasfilm, the harder it becomes to keep track of their intricate chronology. Thankfully, the folks at Star Wars 7 News have created a handy timeline of all the Star Wars canon material.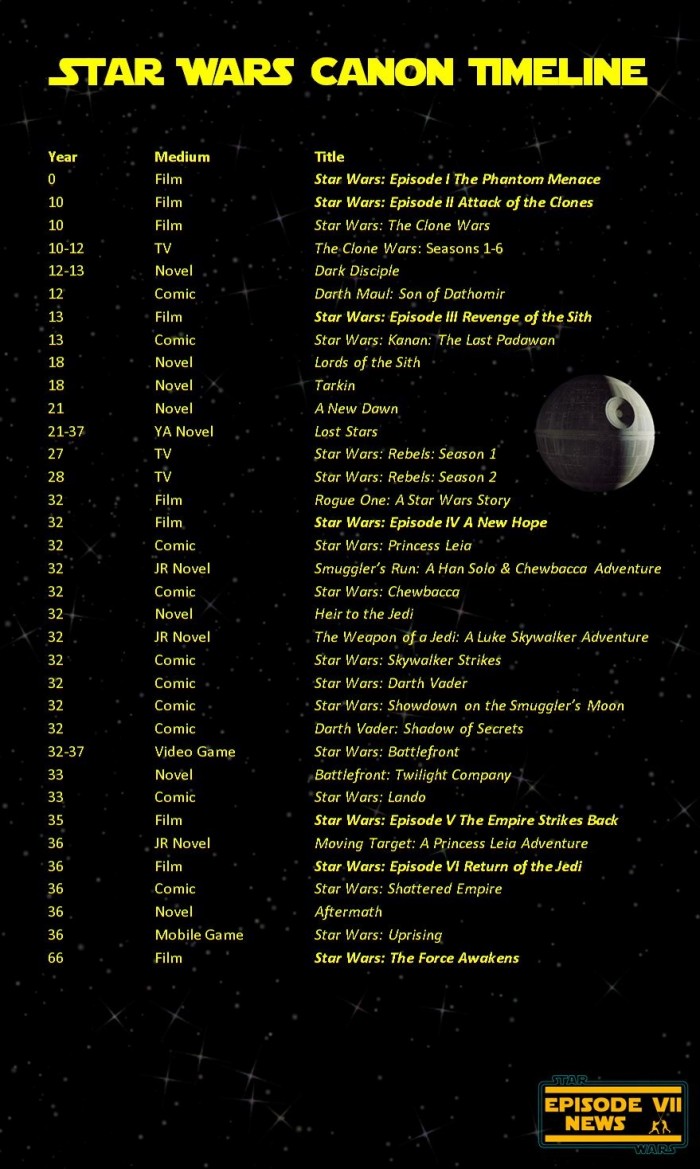 The chart includes all the Star Wars movies and shows, of course, but also the novels, comics, and video games. Keep it handy for the next time you find yourself getting unstuck in time in a galaxy far, far away.
***
Star Wars Battlefront will afford players the ability to play as Heroes like Luke Skywalker and Villains like Darth Vader, but don't expect to stay in their boots for too long. Senior producer Jamie Keen explains:
Our goal was to give an average player around two minutes as a Hero or Villain. But if you're good enough, you might stretch that to around five minutes. In theory, you could play as Luke Skywalker for a whole match, but that is extremely unlikely. That said, the gauntlet is thrown!
You see, playing as a Hero or Villain will decrease your health, though you'll be able to buy more health and time by killing baddies. For however long you get to use him, though, you'll get to enjoy Luke's acrobatic moves:
Luke's movement is varied and powerful, featuring a wide-sweeping, heavy attack with his Lightsaber that can take out large groups of enemies. For more distant targets, the Force Push is a gratifying move that will send Imperial troops flying, and Saber Rush lets you use the Force to propel yourself extremely quickly for a lightning-fast attack.
Meanwhile, Luke's dad has some special tricks of his own:
Almost unstoppable with his melee moves, Darth Vader has a heavy Lightsaber™ attack for short-range uses that will come in handy fighting against a group of Rebels. The iconic Force Choke ability, seen in the Walker Assault trailer, lets you strangle enemies from a distance and move them against their will.
Get many more details on the EA blog. Star Wars Battlefront arrives November 17. More Heroes and Villains will be revealed in the near future.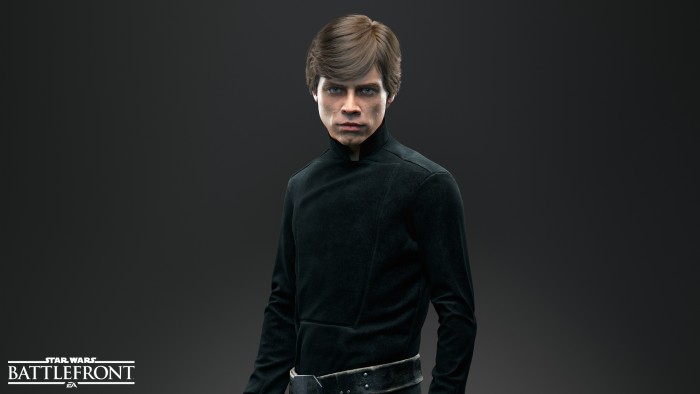 ***
There's been a lot of talk about how the original trilogy characters will figure into the upcoming Star Wars films. But what about stars from the prequel trilogy? Well, according to a (totally crazy) new rumor reported by Making Star Wars, Hayden Christensen could be suiting up for Star Wars Episode VIII.
According to their source, "A team in the U.K. are soon heading to the U.S. to begin training Hayden Christensen for a Star Wars: Episode VIII appearance of some sort." Keep in mind that even the site that broke this rumor admits this one is pretty farfetched.
For one thing, Disney hasn't exactly been eager to remind fans of those much-reviled prequels. For another, even if they did want to bring up the prequel trilogy, it's not clear how or why Christensen would be in Episode VIII. A cameo in a flashback seems like a faint possibility, but then why would he need to undergo a serious training regimen?
And that's not the only Darth Vader rumor going around. The same site also has word that "a fully operational Darth Vader chest piece along with the helmet made it to the creature shop for the next film." The source only saw one such piece, however; for a film like this it's more likely any significant costume or prop would have several copies.
In other words, the mere appearance of a Vader costume on the Rogue One set isn't evidence that he's actually in the movie. It could be that the design team is just using it as a reference, or that it'll only be used as set dressing or something. But if you want to believe this means Christensen will be suiting up as Darth Vader for Rogue One, well, why not. You might as let your imagination run as wild as it can before reality sets in.
Episode VIII arrives May 26, 2017 and Rogue One opens December 16, 2016.