Gwendoline Christie Discusses The Appeal And Challenge Of Playing Captain Phasma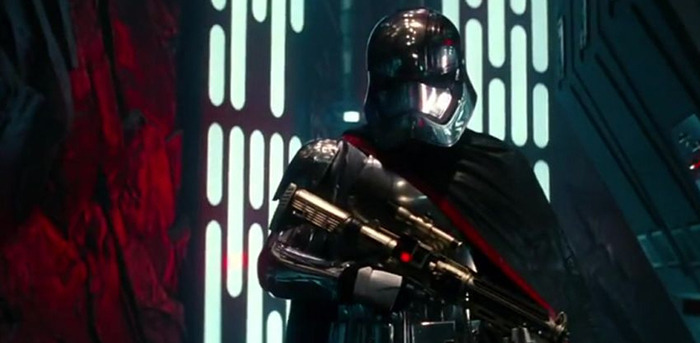 Gwendoline Christie plays one of the most mysterious characters in JJ Abrams's Star Wars: The Force Awakens — she's Captain Phasma, the unique stormtrooper commander in the chrome armor and flowing cape. Christie's presence in the film is intriguing and exciting, and it offers her a chance to further explore some of the same ideas we see in her Game of Thrones character Brienne of Tarth: a woman who is powerful and interesting because of her personality and skills.
Now, Christie is discussing her Star Wars character in a bit more detail. Not giving away story points, mind you, but going into the appeal of the character, and what it means to play a woman in this specific situation.
Let's roll back to July, and start off with the way Christie talked about Captain Phasma at Comic Con this past summer — the first 30 seconds of this video have a very succinct explanation of the appeal of the character.
This week, Variety spoke to Christie, and she had some really well-thought out comments about playing a character who we assume to be head-to-toe armor for the entirety of the movie.
She begins by making some distinction between the way her helmeted villain was portrayed on set in contrast to the creation of Darth Vader, where James Earl Jones added a voice over David Prowse's physical performance.
It was very important to J.J. that I was there acting a part. I found it to be a really interesting acting challenge, not just because of what I felt this character was representing — and it was just what I felt, and we talked about it a little bit, but it was never like a manifesto, 'this is what it must be' — and it was exciting to me to have that weight of responsibility taken away, of having to be a certain way as a woman, to have to be mindful in a way that isn't always useful.
That last sentence ties closely to her Comic Con statement, and continues here:
To have that stripped away was very liberating, and it meant that as an actor I had to focus on other things. I had to focus on what my body was communicating and what exactly my voice is communicating... It becomes about the way in which you hold your hand, the way in which you walk, where your weight lies and what you want that to mean, and I wanted to give the character identity. I thought it was interesting to make something about the character identifiably female in a non-superficial way, and I hope that comes across.
The very idea of playing a completely masked character always seems like a great challenge for an actor (see Michael Fassbender in Frank for one recent example) but when it offers a chance to express femininity in a non-traditional way, it's easy to see how there would be even more appeal.
There's a lot more at the Variety link, and I encourage everyone to check out Christie's other comments.
***
Gwendoline Christie is in The Hunger Games: Mockingjay – Part 2, which opens on November 20, then we'll meet Captain Phasma for real when Star Wars: The Force Awakens opens in the US on December 18. Game of Thrones will return to HBO in 2016.