Watch: Kermit The Frog And Miss Piggy Discuss Their Break-Up On 'Jimmy Kimmel Live'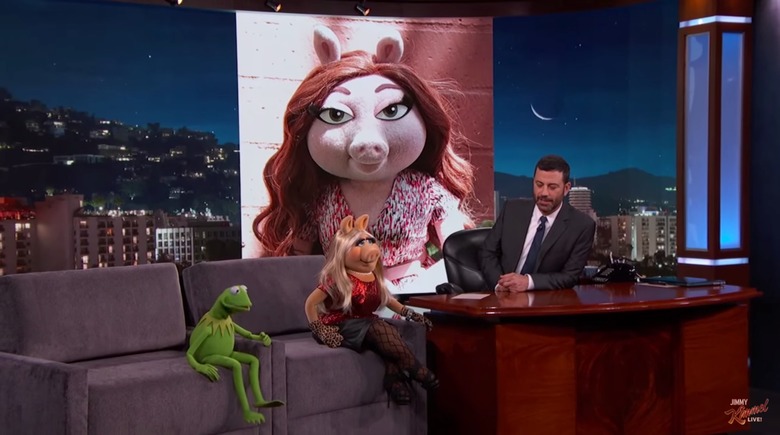 I'm excited because tonight is the first episode of The Muppets' new ABC prime time television series. We've shown you the trailers and the early pitch video, so you probably know by now that Kermit the Frog and Miss Piggy have broken up. Well now that Kermit and Piggy are out promoting their new show, they are being forced to talk about their storyline relationship implosion. Last night the former puppet couple were forced to appear together (due to contractual commitments) on Jimmy Kimmel Live, and you can watch the fun interview embedded after the jump.
The Muppets Interview On Jimmy Kimmel Live
Here is the interview with Kermit The Frog and Miss Piggy on Jimmy Kimmel Live talking about their break-up and new ABC primetime series:
The Muppets not only talk about the reasons for their romantic break-up but Jimmy Kimmel brings up Kermit's new pig girlfriend Denise. We get some new information about Kermit's new girlfriend, who it turns out is an executive at ABC and is young but "old enough" according to Kermit.  They also explore Miss Piggy's dating profile on her Tinder account (of course Piggy is on Tinder...), Kermit talks about the show they are making within the documentary-style show and they both discuss reuniting with our favorite Muppet friends to make this new series.
I'm very excited to see The Muppets new television series tonight despite the early mixed reviews. If one million moms are boycotting the new show because of the series' adult humor, they must be doing something right. Lets just hope the new series is better than Muppets Most Wanted and something more akin to the original series The Muppet Show or even the recent Disney film reboot The Muppets. My DVR is set, is yours?